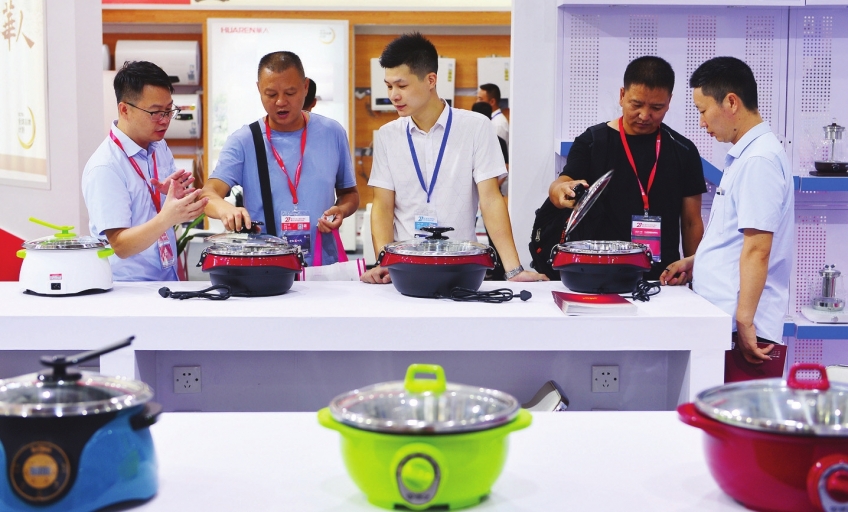 Many participating household appliance companies show their AI-based products at the 27th China Household Electrical Appliances Trade Fair (CHEAF), catching merchants' eyes. [Photo by Xia Shengquan]

One might watch TV or answer the phone when having a bath. The customized "Zhimijia" AI smart bathroom product is like a wind of AI (artificial intelligence) technology blowing the traditional household appliance industry.

On August 11, the 27th CHEAF kicked off at the Huangpu International Convention and Exhibition Center. The 3-day event features more than 800 exhibitors showing over 60,000 products. Quite a few brand-name household appliance companies expect to lead the industry with AI-based products.

"This (Zimijia) is the new product we launched in July this year and makes its debut at the CHEAF. It is a shower panel with multiple functions such as watching TV," said Liu Xiao'e, General Manager of Zhongshan Zhimijia Technology Co Ltd.

According to Liu, with the arrival of the 5G era, more young people like to add new elements that are fashionable, convenient, fast and healthy in their bathrooms. She believed AI technology would lead the product trend in the next 5-10 years.

Brand-name household appliance companies also upgrade themselves by stepping into other areas in addition to enriching their product categories.

Guangdong Aosdin Electric Appliance Co Ltd, located in Huangpu Town, has nearly 10 product categories including air conditioner, range hood, stove and disinfection cabinet under its brand. At the opening day of the 27th CHEAF, the company launched its four-wheel low-speed electric vehicle.

Hong Sufang, president of Aosdin, said that the green, environmental, energy-saving four-wheel low-speed electric vehicle is especially suitable for rural use. Aosdin has received orders from Henan and Shandong provinces for the newly-launched. In the future, the company will also open up markets in the countries along the Belt and Road.