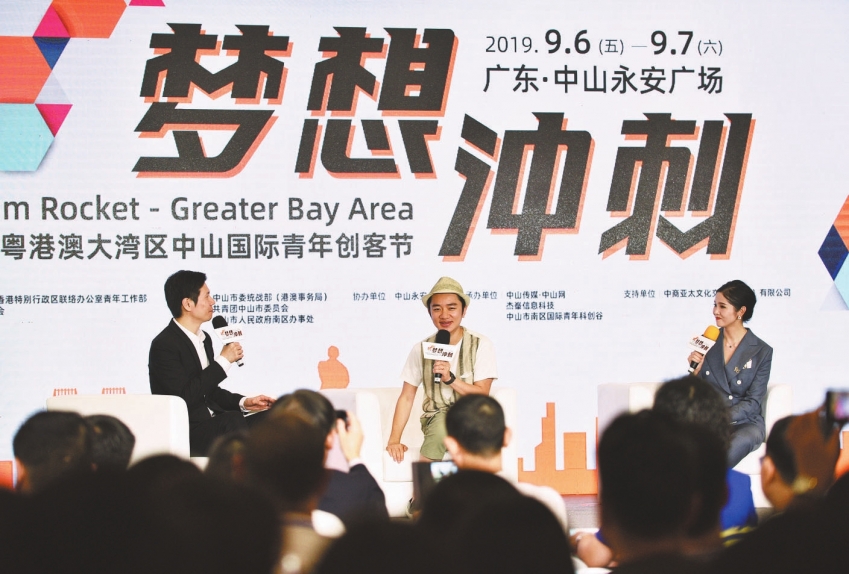 Guests attending the event share their experience in innovation and entrepreneurship. [Photo by Wen Bo]

The two-day "Dream Rocket" Greater Bay Area International Youth Entrepreneur Festival (Zhongshan) kicked off on September 6 at Wing On Square in South District. This event covers project roadshow, keynote speeches, corporate counselling, business matching with investment institutions, and other activities.

On the opening day, guests including Johnny Ng Kit-chong, member of the CPPCC National Committee and Chairman of Goldford Venture, and Hong Kong star Wong Cho-lam, also Founder of Tailor Made Productions Limited, were invited as star entrepreneurs to share their entrepreneurial experience.

In June 2019, the South District Office signed a strategic cooperation agreement with Goldford Venture, to jointly build the South District Science and Technology Innovation Valley in collaboration with renowned universities, high-quality companies and youth organizations. On September 6, the South District Science and Technology Innovation Valley announced its official operation.
The Valley is located in Wing On Square, a commercial landmark in South District. The first phase covers an area of 2,400 square meters with a two-storey office area and 392 office sites, 23 independent offices and shared office space of 1,300 square meters. As of now, 15 projects have been contracted to enter the Valley.

Young entrepreneurs from the Guangdong-Hong Kong-Macao Greater Bay Area equally presented their innovative projects on that same day.