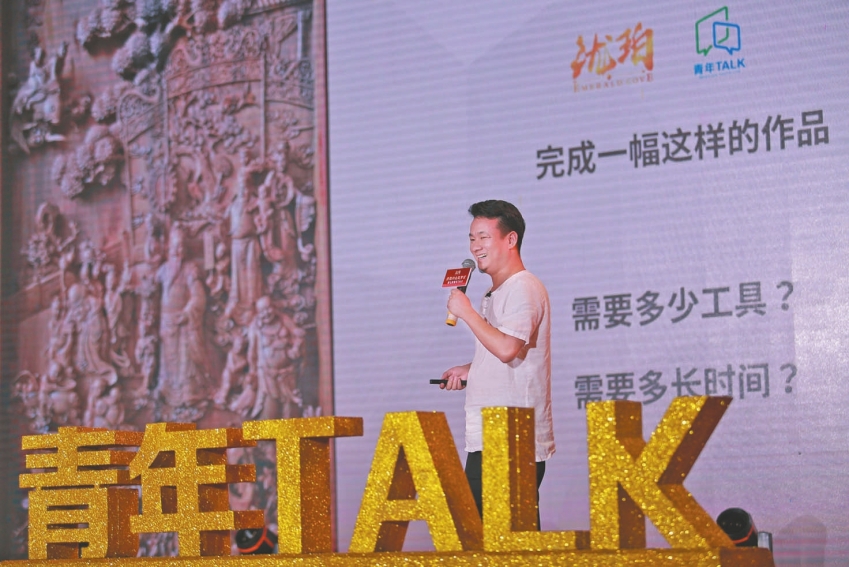 Li Guoyang, a mahogany carver, shares his "sour, sweet, bitter and spicy" experience. [Photo by Xia Shengquan]

The 2019 Paying Tribute to Zhongshan Dream Builders event was organized on September 28 by the public welfare venture brand "Youth TALK". It is a project that falls under the Zhongshan "Love 100" campaign. Eight youths were named "Dream Builders in Zhongshan", six of whom stepped onto the Youth TALK stage to share their experience in pursuit of their dream, thus encouraging other young people to be daring in pursuing their dreams and not wasting their youth.

Among them, are clothing brand entrepreneurs who started their business from scratch, 80's descendant of Huangpu Preserved Meat who would promote the traditional companies to be listed overseas, masters of arts and crafts, Zhongshan Art Museum curator, female CEO of Zhongshan's first new NEEQ listed cultural and media company, as well as the owner of Shiqilao Zhongshan Restaurant. They are all talents in all works of life.

Li Guoyang, from Dongyang City, Zhejiang Province, has witnessed miraculous wood carving techniques since he was a little kid. After settling in Dachong, Zhongshan he set up his own studio in a bid to continue his research and later created the "plain shadow engraving" wood carving technology.

"Choose a thing for all your life. When you really love something, you have to do it to the extreme. That is my youth faith," Li Guoyang said.

Organizer said that, the "Youth TALK", which has so far been organized seven times, showcased the dreams, innovations and perseverance of youths in Zhongshan and equally attracted thousands of young fans.