Zhongshan firm develops first smart temperature measurement and disinfection machine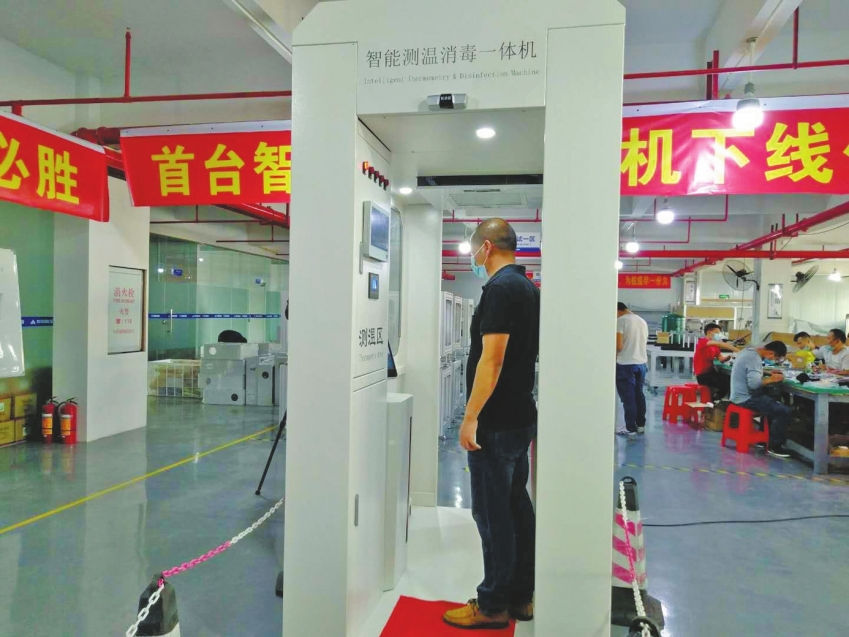 The first intelligent temperature measurement and disinfection machine rolled off the production line on the morning of March 16 in Wanfuyuan Industrial Park, Dongsheng Town. Jointly developed by member enterprises of the Hubei Chamber of Commerce in Zhongshan, the machine is produced in Sanqi Machinery Co Ltd, which is also a member of the Hubei Chamber of Commerce in Zhongshan.
This machine is divided into a temperature measurement area and a disinfection area. When the reporter entered the temperature measurement area, the infrared spectrum sensor and the face recognition system immediately presented the reporter's body temperature of 36.5 degrees Celsius and face imaging on the display screen. The temperature test result is normal. At this time, the safety gate between these two areas opens automatically, and the reporter can enter the negative ion disinfection area for whole body disinfection. The whole process only takes half a minute.

Lu Yong, Chief Operating Officer of Sanqi Machinery Co Ltd, said that at present, the functions of the machine include non-contact infrared measurement of body temperature, disinfection, and omni-directional negative ion disinfection of human body surfaces. In addition, it also includes multi-purpose functions such as a data collection system from face recognition, ID card recognition, and personal information card recognition. It can be used for attendance records, campus card management, bus/railway station security checks, hospital inquiry data tracking and collection, etc.

Zhou Xinguo, president of the Hubei Chamber of Commerce in Zhongshan, told Zhongshan Daily that so far more than 10 member enterprises have temporarily transformed their development focus to the development of epidemic prevention products to cope with the epidemic, and more than 50 member enterprises have become epidemic prevention product manufacturers or supporting enterprises.