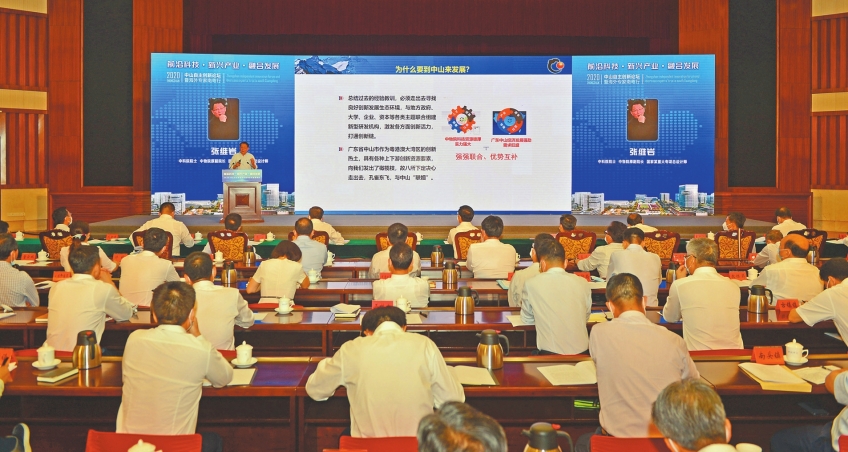 The 2020 Zhongshan Independent Innovation Forum & Overseas Experts' Tour to Guangdong was held on May 20. This activity was themed "Frontier Science and Technology, Emerging Industries and Integrated Development". Academicians of the Chinese Academy of Sciences and experts in frontier science in Zhongshan were invited to share the latest scientific research results and exchange ideas on their newest projects.
Academicians and experts from photon science, low-temperature refrigeration, biomedicine, artificial intelligence, and other scientific and technological frontiers delivered keynote speeches on the integration and development of major basic research and development platforms in related fields and modern industrial systems.

In this event, Zhongshan Science and Technology Innovation Park, another major platform carrier for scientific and technological innovation in Zhongshan, was unveiled. It is reported that Zhongshan Science and Technology Innovation Park will be located in South District, with a planned area of 350,000 square meters and a total investment of 6 billion yuan. It is estimated that by 2030, it will be built into a high-end urban community that integrates high-end scientific and technological research and development, accelerated incubation of scientific and technological enterprises, ecology, and life.

The Overseas Experts' Tour to Guangdong is very important to Guangdong province. The tour aims to promote international exchange and cooperation of scientific and technological talents, and to coordinate the development and use of high-end human resources at home and abroad. Since 2009, more than 70 activities have been held and over 5,000 experts from home and abroad have been invited to Guangdong to exchange project ideas.