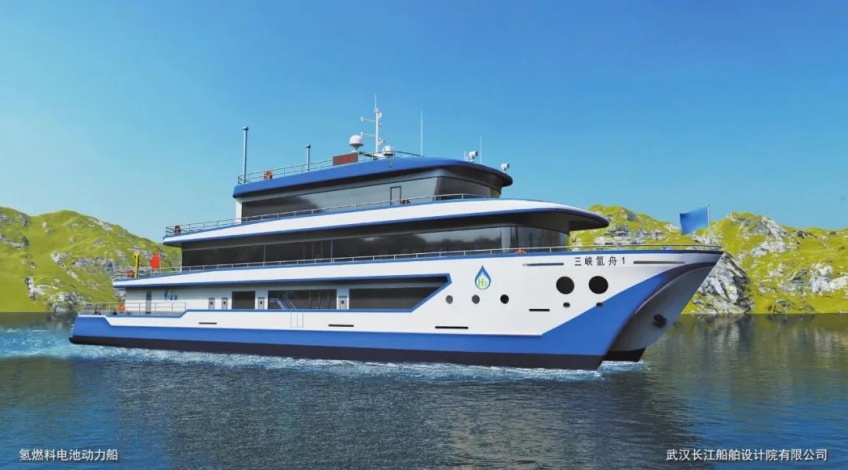 Design sketch of the ship

The construction of the Sanxia Hydrogen Ship 1 started in Jianglong Shipbuilding's Zhongshan Science and Technology Park on May 17. Classified by China Classification Society as China's first hydrogen fuel cell-powered working ship, it will be mainly used for communication, inspection and emergency operation in the Three Gorges Reservoir Area and area between Gezhouba Dam and Three Gorges Dam in the future.

The Sanxia Hydrogen Ship 1 adopts hydrogen fuel cell and lithium battery power system developed by China Shipbuilding Industry Corporation. With blue sky and white clouds as its main colors and a steel-aluminum composite structure, it has a total length of 49.9 meters, a width of 10.4 meters and a depth of 3.2 meters. The rated output power of the battery is 500 kW, the maximum speed reaches 28km/h, and the cruising range can reach 200 km. The ship is highly environment-friendly and comfortable, with low energy consumption and noise. The most important feature of the ship is "zero emission".
"This will be another important breakthrough for Jianglong Shipbuilding in the field of new energy ship building. We have invested a lot of energy for its research and development." Hao Bing, chairman assistant and general manager of Zhongshan Branch of Jianglong Shipbuilding, said that last year, the company joined hands with well-known domestic enterprises to establish the Zhongshan R&D Center for Hydrogen Energy Ship and began to focus on the application scenarios of hydrogen energy in high-performance ship industry.

Zhongshan's intelligent manufacturing industry has turned many blueprints of new energy ships into real products. Jianglong Shipbuilding, for example, has acquired such power technologies as pure electricity, diesel electricity and methanol fuel, and has realized the industrialization of many different new energy ships.