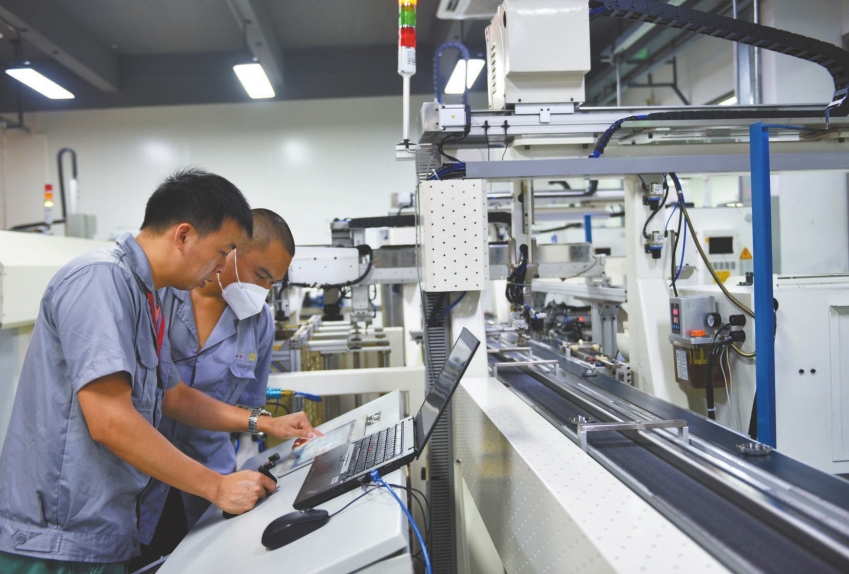 The Certificate of Origin (C/O) reform provides a great opportunity for Zhongshan products to go global. [Photo by Wen Bo]

Machines are busy running in the cutting workshop of Zhongshan Jinhui Metal Co Ltd. As a leading company in the clock and watch processing industry, the Hong Kong-funded company produces more than 400,000 pieces of clock and watch accessories monthly, with a majority exported to Switzerland.

Yang Jianqi, a person in charge of Jinhui Metal, introduced that thanks to the Sino-Swiss Free Trade Agreement, their Swiss customers saved more than $2.2 million in tariff costs in the first half of 2019 alone. This went a long way in indirectly promoting a win-win cooperation between the company and its customers.

The key to cost saving for Swiss customers reside in obtaining the C/O for the purchase of accessories. Yang Jianqi said that the C/O self-service printing pilot reform at Zhongshan Customs that was started in March this year brought advantages to companies. Since then, C/O under the Sino-Swiss Free Trade Agreement can be electronically applied throughout the whole process. The certificate can be accessed online after the freight information is completely confirmed. This way, people can access the certificate in time without leaving home.

In the first half of 2019, Zhongshan Customs issued a total of 57,027 Certificates of Origin of various types, with a visa value of $2.177 billion. Over 30,000 Certificates of Origin with regional preference were issued, with a visa value of $1.103 billion, up by 5.3% and 7.3% year on year respectively. These resulted in about $70.8 million in tariff relief for overseas importers of Zhongshan export companies, up by 7.1% year on year.