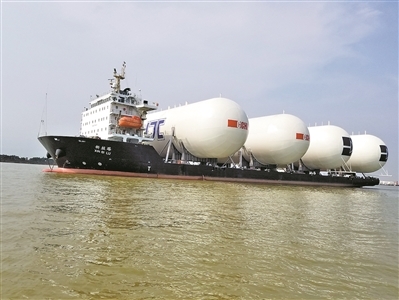 The 10,000-ton, dry-cargo ship named "New Silk Road" sailed directly from Zhongshan on August 6 for South Africa. This will be the first direct export voyage since Zhongshan was upgraded to a first-class port. [Photo/Guangzhou Daily]

At 7 pm on the day, the New Silk Road slowly departed from Zhongshan Port and headed towards South Africa, beginning its current 35-day sea voyage.

The New Silk Road, a deck cargo ship with a length of 135.4 meters, a width of 32.2 meters and a deadweight of 12,708 tons, loaded four steel "bullet cans."

In order to facilitate New Silk Road's inspection procedures passage before setting sail, the Zhongshan Maritime Safety Administration opened a series of "green channels".