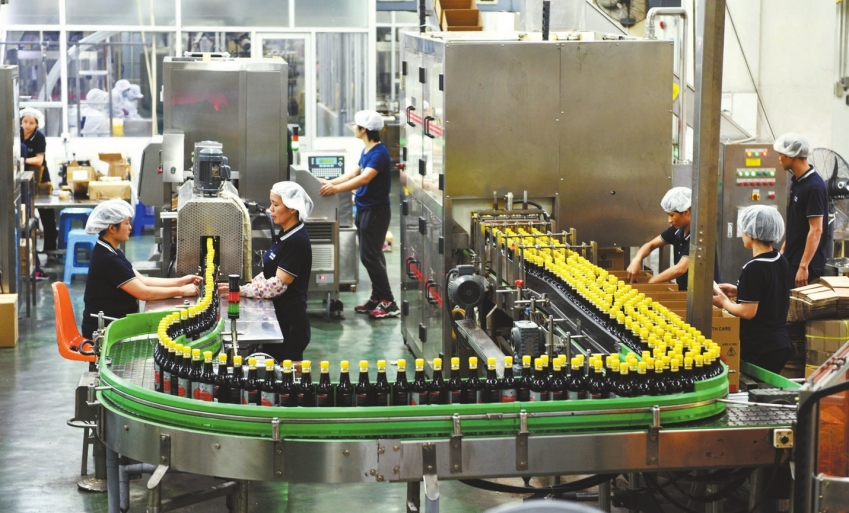 Full automation equipment is used in the production workshop of Guangdong PRB Bio-Tech Co Ltd. [Photo by Wen Bo]

The brand "Pearl River Bridge" of Guangdong PRB Bio-Tech Co Ltd is one of the earliest export food brands, and it has been exported for more than 60 years. Today, the Pearl River Bridge soy sauce is exported to more than 120 countries and regions with its annual export volume of more than 50,000 tons, ranking 1st in China for a long time.
Based upon its years of technological accumulation, Pearl River Bridge has established the "Guangdong Food Bioengineering Technology Research and Development Center" with a total investment of more than 20 million yuan, enabling traditional condiments, such as soy sauce, to apply the cutting-edge biotechnology achievements independently developed. The Center is also one of the engineering technology research and development centers in Guangdong Province.
According to statistics of the Zhongshan Customs, since this year, Zhongshan has exported 41,700 tons of soy sauce, with Guangdong PRB Bio-Tech Co Ltd exporting 29,200 tons.
Zhou Zhaohui, PRB's chief operating officer, said the company's exports to Europe, the United States and Southeast Asia accounted for half of its total exports. Since the beginning of 2019, the company has expanded its exports to Europe and actively developed the South American markets.
"We will carry out differentiated R&D to address the differences in taste across Europe," Zhou added. In recent years, Pearl River Bridge soy sauce is also committed to promoting its usage in European and American cuisines, to increase its exports year after year.