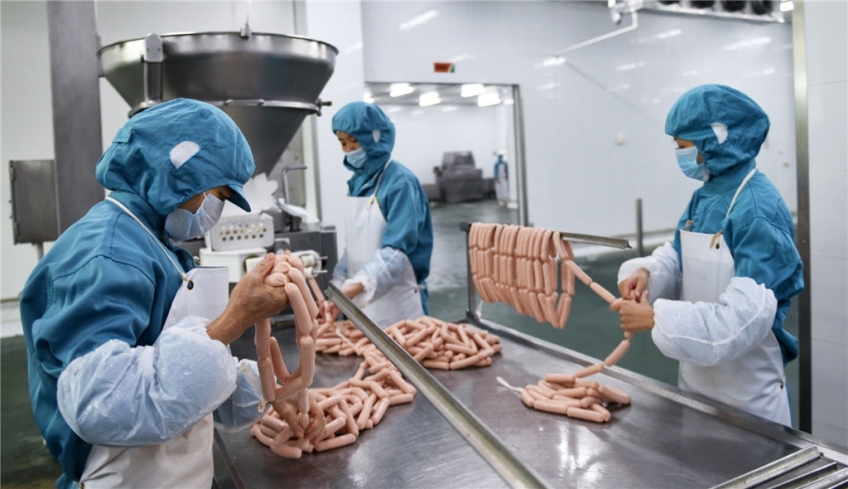 Staff work in the workshop of Guangdong Aoliming Aviation Food Co Ltd. [Photo by Wen Bo]
Hams, luncheon meat, smoked sausages and other cooked food products are neatly stacked in the packaging workshop of Guangdong Aoliming Aviation Food Co Ltd, which is located in Nanlang Town, Zhongshan. These products are about to be delivered to catering companies in airports and appear on the passenger's tables.

As a meat supplier of flight meals, Aoliming mainly produces western-style cooked meat products. It has developed up to 300 airplane dishes.

According to Chen Yiming, chairman of Aoliming, the company started with aviation food business since its establishment in 2004. Currently, around 70% of domestic and international flights in China use Aoliming's cooked food products in their first-class and business-class airline meals. The company also supplies products to Hong Kong and Macao airlines through exports.

In the first 8 months of this year, Aoliming exported 33 batches of cargo, weighing 281.7 tons and worth $850,000. Early in 2006, the company began supplying cooked meat products for Hong Kong and Macao airlines, and now 60% of its exports are supplied on airplanes.

In 2016, Aoliming put into operation a new workshop with an investment of over 60 million yuan, and imported production equipment from Germany and Italy. With the assistance of the Zhongshan Customs, the company is doing business, from product design to production, in accordance with the latest international standards.

Today, the company has expanded its cooked meat product business to hotel, chain restaurant, bakery and high-speed rail meal industries. Its annual output value now exceeds 100 million yuan, and its annual export value exceeds 10 million yuan.