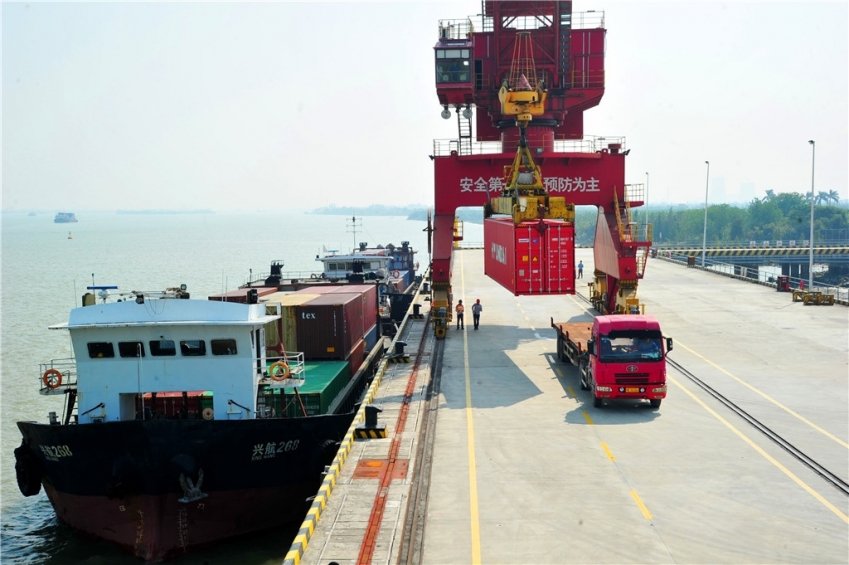 Huangpu Port. [File photo by Yu Zhaoyu]
Huangpu Port officially launched its domestic trade business on November 8. With a total investment of 340 million yuan, Huangpu Port has an impact on Huangpu, Nantou, Dongfeng, Fusha, Sanjiao and other towns, as well as Ronggui of Shunde District, Foshan City.
After the opening of domestic trade routes, Huangpu Port will further improve the effectiveness of logistics, reduce logistics cost for companies, and improve transport efficiency in northern towns.

As the newest port in Zhongshan, Huangpu Port has experienced rapid business growth since its opening more than two years ago. Last year, the port handled 26,100 TEU, up 140.73% from the previous year.

Huangpu Town is a traditional small household appliances manufacturing town in the north of Zhongshan, which has gathered more than 1,700 household appliances manufacturers and supporting enterprises. In order to help companies export goods and reduce transportation costs, Huangpu Town last year began to subsidize enterprises carrying goods in and out of Huangpu Port, saving them about 9 million yuan in transportation costs.

This year, Huangpu Town invests nearly 600,000 yuan to subsidize 22 companies which export from Huangpu Port, an increase of 45% over the previous year.