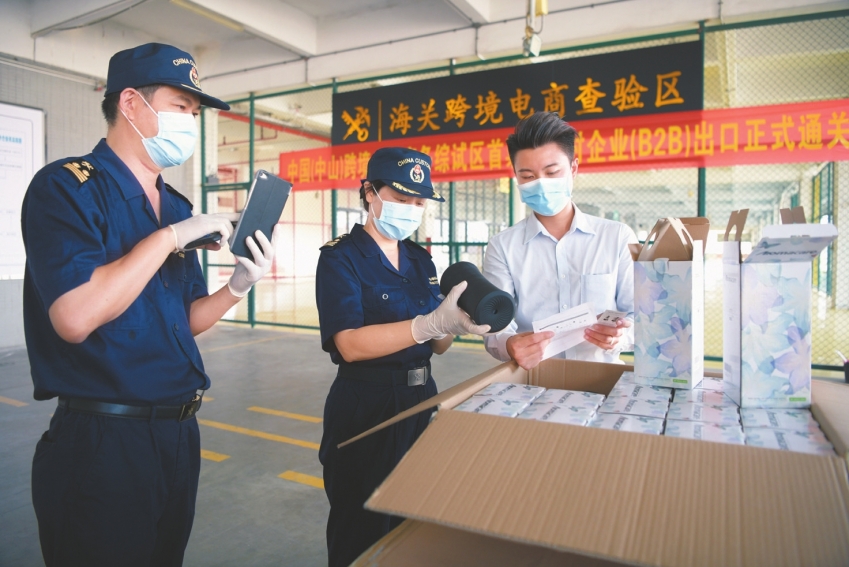 The B2B export supervision pilot project for cross-border e-commerce was launched in Zhongshan on the morning of September 1. As the gate of the logistics park of the Zhongshan Bonded Logistics Center opened, a total of 1,081 aromatherapy diffusers and air humidifiers made in Zhongshan would be exported to California, USA.

Li Hui, chairman of Guangdong Titans Intelligent Power Co Ltd, said that some of the exported goods would be sent to Amazon's cross-border e-commerce platform, while some others would be shipped to the Titans' overseas warehouses.
Titans' production base is located at Sanjiao Town, only 10 kilometers away from the Zhongshan Bonded Logistics Center. With the B2B process, Titans can save at least 10,000 yuan per month in transportation and storage, and also save a lot of time and cut down on labor costs.

An announcement from the General Administration of Customs showed that from September 1, twelve directly related customs offices, including Gongbei Customs, would be incorporated into the second batch of the cross-border e-commerce B2B export supervision pilot projects. Enterprises within these customs districts can transport goods to overseas enterprises or warehouses through cross-border logistics and complete transactions through cross-border e-commerce platforms. The customs clearance process include "B2B direct export" and "export to overseas warehouses".