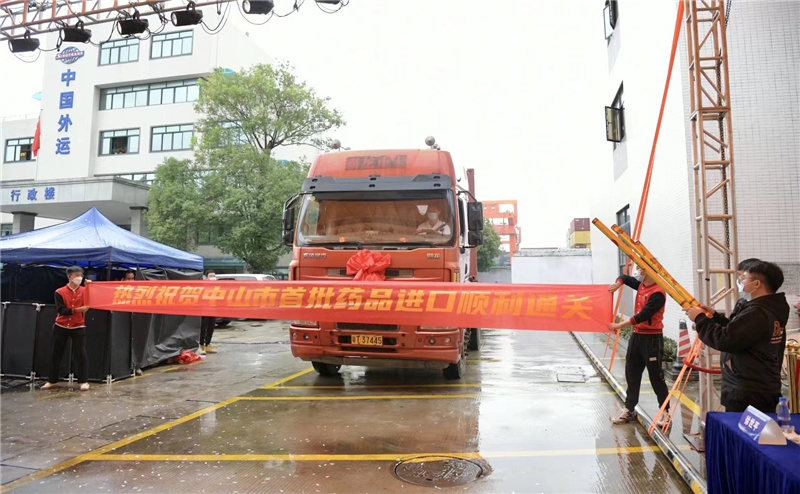 Two batches of medicine imported by Zhongshan-based enterprises were cleared through Zhongshan Port on the May 16, marking the official use of the port of entry for imported drugs.

Guangdong Landu Pharmaceutical directly imported 3.3 tons of the raw pharmaceutical material "cefotaxime sodium" through Zhongshan Port. The estimated value of finished products made from these materials will exceed 50 million yuan.

"We can finally import drugs through a nearby port." Fu Miaoqing, head of Guangdong Jincheng Jinsu Pharmaceutical Co Ltd (Guangdong Landu Pharmaceutical), said excitedly. Local enterprises no longer need to import goods through distant ports in Guangzhou and Shenzhen, which directly reduces intermediate links of import of medicine, semi-finished products and raw and auxiliary materials. This also improves the stability and timeliness of the supply chain and guarantees stable production.
Zhongshan is the fertile soil for the development of the biomedical industry. In 2021, the output value of its biomedical industry exceeded 25 billion yuan, and the city is making great efforts to build a biomedical industry cluster with a total output value of over 100 billion yuan. After the opening of the drug import port of entry, Zhongshan's pharmaceutical enterprises can directly participate in international drug circulation, improve its development from international entities, improve the industry's R&D and production capacities, and attract more high-end resources from around the globe. Citizens can also get imported drugs at lower costs near their homes.

Zhongshan will develop Zhongshan Port into the most efficient port of entry for imported drugs in the Greater Bay Area and even the whole country with the simplest procedures, optimal processes and the best services.