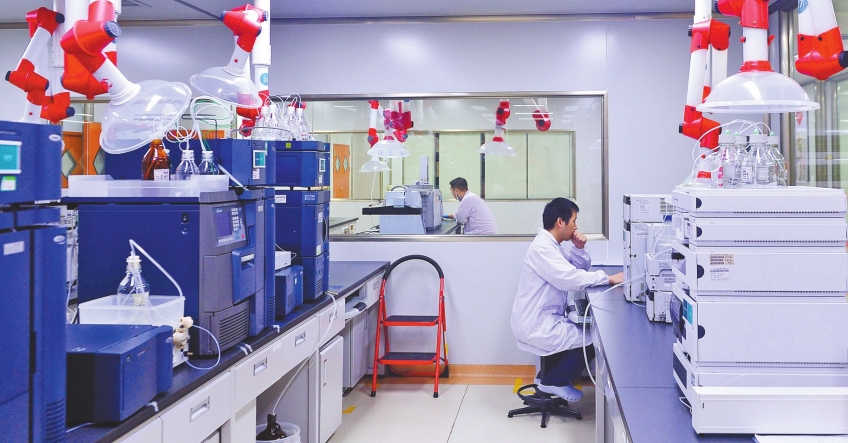 The National Health Technology Park (NHTP) has more than 140 scientific research platforms of various kinds, thereby making companies have a powerful "backstage". [Photo by Xia Shengquan]

In October this year, a "major new drug" key special science and technology achievement developed by Guangdong Zhonghao Pharmaceutical Co Ltd was successfully industrialized and pushed to the market. This is a milestone in the innovative development of Zhongshan's health and pharmaceutical industry. It is equally a microcosm of the development of the NHTP.

Since 2012, the NHTP has attracted a number of new innovative companies, such as Akeso Biopharma, Transtek Medical, Zhonghao Pharmaceutical, MinFound Medical, QuaCell Biotechnology and Jincheng Pharma, as well as a number of high-end research platforms.

There has been a number of innovation achievements by companies in the park this year. For example, Hebo Pharma this year built the Guangdong Chiral Drug Engineering Lab (Zhongshan Center), and Junhou Biotechnology was selected as one of the 41 high-quality projects during the 2019 Zhongshan Trade, Investment and Top Talent Fair.

The healthcare industry continues to develop, as, on the one hand, newly introduced innovative companies increased production capacity; on the other hand, leading companies speeded up capital increase and production expansion.
In July this year, Zhongzhi Pharmaceutical obtained the GMP certificates for two of its new workshops. The new production lines are expected to produce about 100 million yuan of cell wall-broken decoction pieces every month and add more than 1 billion yuan as output value of new cell wall-broken decoction pieces every year.

Later in August, Transtek Medical started the construction of its Phase III project in the park. The Transtek Industrial Park (Phase III) mainly includes intelligent production workshops, automatic production lines, three-dimensional warehouses and logistics transmission lines, research and development laboratories, advanced experimental and testing equipment, etc. It is expected to be operational in July 2020.

Until now, there are more than 140 scientific research platforms at the NHTP, including provincial engineering centers and enterprise technology centers, national and local joint centers, and branches of national key laboratories. Companies can obtain scientific and technological achievements through these platforms, and speed up the achievement transformation.