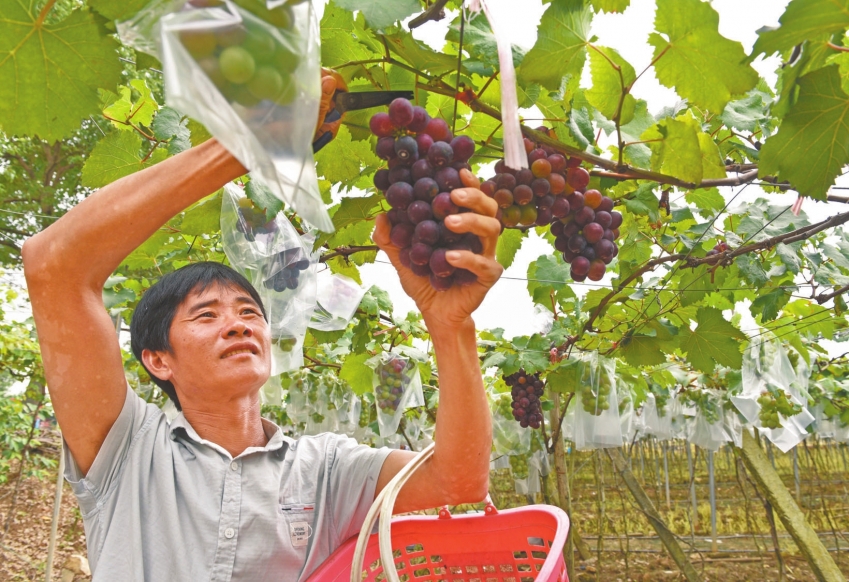 Liang Jianfeng from Gaoming Village in Sanjiao Town decided to return to the agricultural land and run a farm. [Photo by Wen Bo]

Liang Jianfeng, a farmer in Gaoming Village, Sanjiao Town who had previously separated himself from agricultural work, quietly returned home two years ago for land bidding. He contracted a piece of farmland located next to the European-style Diyin Lake Small Town to grow fruits, which turns him into a farm owner from a fruit vendor.

At Jian's Family Farm, all kinds of fruits are hanging over branches. "My fruits are generally a bit more expensive than those in the markets. But they are still in shortage supply at off-duty hours or on weekends and holidays," said Liang, the owner.

Liang is planning to contract another piece of farmland in the village next month, hoping to expand production and satisfy villagers' increasing demand.

Relying on the popularity of the Diyin Lake Small Town, agricultural tourism in the surrounding areas has seen rapid development, which brings more business opportunities for Liang and other villagers.

According to Gao Yunjie, Secretary of the Party Committee of Gaoping Village, since the opening of the "Diyin Lake European Town", an increasing number of non-local tourists keep coming here, boosting the leisure agriculture and tourism around.

As some training and certification institutions cooperated by China and Germany settled in the Man Sum Information Technology Industrial Park beside the Diyin Lake in Gaoping Village, many foreigners of different races and speaking different languages start to dwell here.

"I usually bring my children here to have a cup of coffee and meet some foreigners and listen to foreign languages. It is unimaginable that we can experience such an international city-like atmosphere in the village," said Ms Liang, a villager from Gaoping Village.