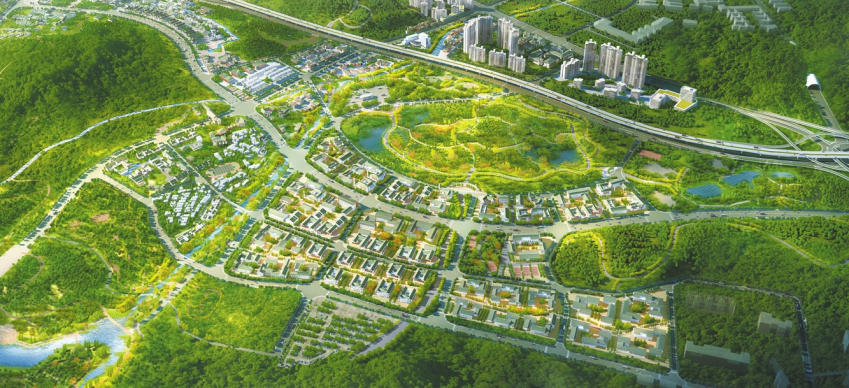 Design drawing of the northern Jinzhonghu area.
Zhongshan plans to transform the northern Jinzhonghu area into the Greater Bay Area Park City with ecological harmony, high quality and vitality, according to the Zhongshan Bureau of Natural Resources. A total of 10 parks, such as Zhongshan Arboretum and Sun Wen Memorial Park, are planned for the area.

The Urban Design and Key Areas Quality Improvement Plan for Northern Jinzhonghu Area (hereinafter referred to as the "Plan"), which focuses on improving urban environmental quality, cultural inheritance, residential environment quality, and traffic control of the northern Jinzhonghu area, and forms a unified cityscape and continuous park system through integrating peripheral urban functions and optimizing urban space, has recently passed a review made by the Zhongshan Land Planning Committee.

According to the Plan, the northern Jinzhonghu area is located on the west bank of the Guangdong-Hong Kong-Macao Greater Bay Area, at the center of Zhongshan city, and to the north of Wugui Mountain, with an area of 849.6 hectares. The whole area features 7 urban parks either completed or under construction, namely: Sun Wen Memorial Park, Zhongshan Arboretum, Meteorology Park, Jinzishan Park, Jinzhong Lake Park, Children's Park and Guxiang Forest Park. Xiuli Lake Park, Xin'an Low Carbon Park and Dashi Mountain Park are still at the preliminary stage.

With the construction of these 10 parks, the renewal and renovation of the existing villages and old industrial areas will also be promoted under the Plan, with the aim to renew, enhance and upgrade the living standards and space of villagers. It will equally set the pattern and improve the landscape of this area so that it will be rebuilt with a high standard and be integrated into the surrounding parks.

For example, Dongyuan Road South will be renovated and upgraded into a theme block. After renovation, it will have a folk-custom-themed commercial street, a Wanxi specialty food street, an experience area of folk custom culture, and a hiking station.