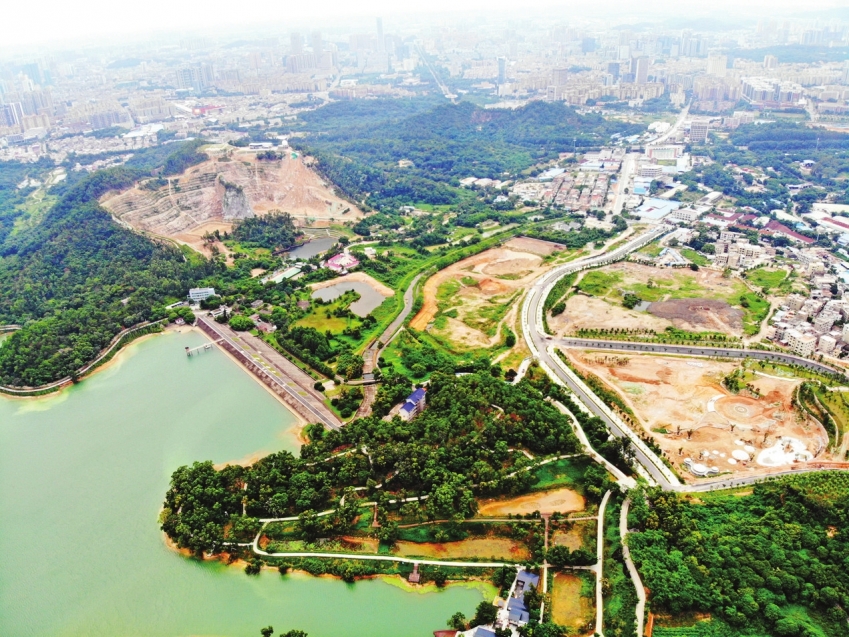 Several parks are now under reconstruction. [Photo by Yu Zhaoyu]

The "Quality Improvement Plan for Urban Design of North Jinzhong Lake Area and Major Areas" was released on August 19. The plan specifies the urban design of the North Jinzhong Lake Area, which totals 849.6 hectares and is positioned as "an ecological, high-quality, and dynamic park city in the Greater Bay Area".

The plan includes ten parks, including 7 built or under construction (Sun Wen Memorial Park, Zhongshan Arboretum, Meteorology Park, Jizi Mountain Park, Jinzhong Lake Park, Children's Park, Guxiang Forest Park) and 3 to-be-built (Dashi Mountain Park, Xin'an Low Carbon Park, Xiuli Lake Park).

In an effort to provide a more accessible scenic view, there will be 3 ecological corridors connecting the 10 parks. Entertainment facilities for hiking, outdoor training, camping and many other activities will also be constructed in the Wugui Mountain 5A Scenic Spot.

The area will be divided into two parts. The first will be the core area with a cultural tourism small town, and the second will be the Wugui Mountain Forest Hiking Zone.

Different sightseeing routes have been designed. Among them, the science sightseeing route will cover 5 parks, and will require a time of 4 to 6.5 hours to complete. It is suitable for teenagers, elders, and couples. The hiking route covers 5 parks, and it takes a time of 3 to 5.5 hours to finish. It's suitable for teenagers, sport teams, middle-aged couples, and others.

According to the design plan, the core area ,with a population of 20,000, has been engineered with the capability to receive 4.8 million visitors per year. This figure would include a peak of 200,000 visitors per day.