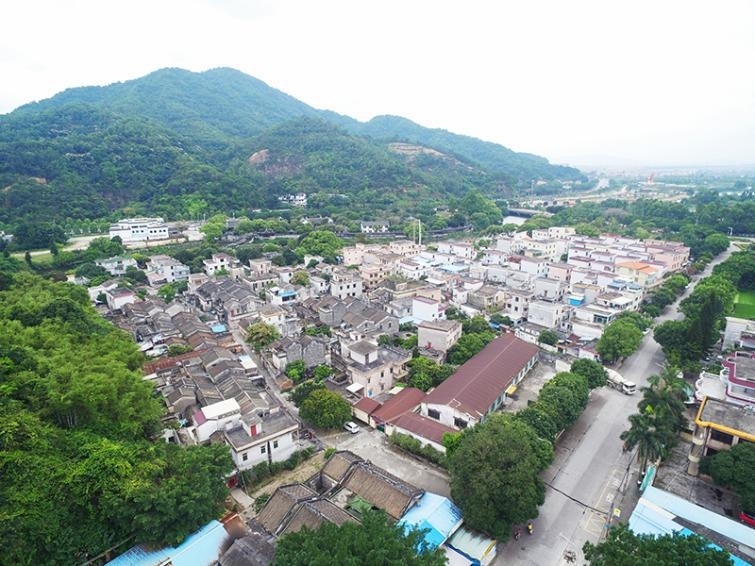 Overlooking Beitai Village. [Photo/Zhongshan Villages]

The history of Beitai Village dates back to over 1700 years ago. According to the Local Chronicles of South District of Zhongshan City, "In the time of First Emperor of Qin, the ancestors had already settled in more than 10 residential areas including Shachong, Fuchong, Maling and Beitai in the city. They, living and thriving here, were the first residents of South District."

Due to the subtropical monsoon climate, there is plenty of rain and sun all year round. The Beitai River, originating from the Shuangya Mountain of the Wugui Mountains, runs from east to west in the southern Beitai Village. Along with the ancient trees, exotic flowers and rare herbs growing on the river banks, it was called "the most beautiful natural landscape in Zhongshan".

Beitai Village is also a famous hometown of overseas Chinese in Zhongshan. According to records, the earliest villagers who moved overseas can be traced back to around 1800. Overseas villagers not only spread Chinese people's wisdom and hard-work spirit around the world, but also brought in advanced technologies and systems from abroad, which earned Beitai another title -- The Home of Air Force in China.

After the founding of the People's Republic of China, overseas villagers never forget their hometown that has seen rapid development. Beitai Village was successively awarded as "Guangdong Health Village", "Guangdong Characteristic Tourism Village" and "Guangdong Civilized Village".

Based on the unique, charming historical and cultural relics such as Yang Xianyi's ancestral home, Yang Guanyu's former residence, Zhan's Garden, Fengming Yang's Ancestral Hall, Chen's Ancestral Hall and Laolin Ancestral Hall, at present, Beitai villagers continue to inherit and carry forward the patriotic emotion and the love for their hometown. They have been working on building the village into an air force characteristic demonstration village with stories and nostalgia.