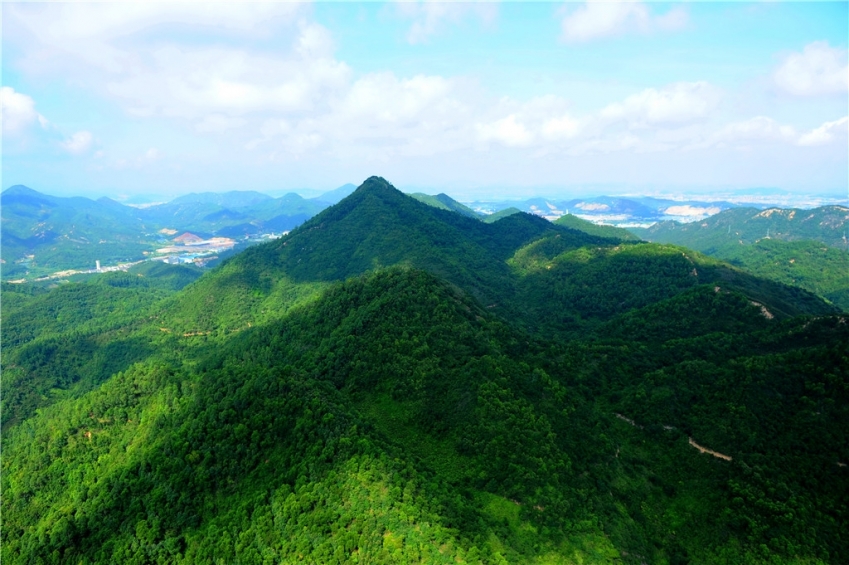 Dajian Mountain. [File photo by Ye Jingchong]
The preparation of the Master Plan for the Zhongshan National Forest Park in Guangdong Province (herein referred to as the Master Plan) has been completed, according to the Zhongshan Bureau of Natural Resources. The Master Plan covers a period of 10 years from 2018 to 2027.
Zhongshan National Forest Park is a state-level urban forest park integrating forest ecosystem protection, recreation, forest-based health, sports and fitness, science popularization education and cultural experience.

The forest park, with hilly terrain, is located in the southern part of Zhongshan central area. The highest point is the Dajian Mountain with an altitude of 391 meters. Major peaks in the park include Jinzhong, Erjian , Dajian and Dadu Mountains.

The main landscape scenic spot is the Dajian Mountain, which accounts for 14.56% of the total area of the forest park. Except for some necessary facilities regarding protection, tourism interpretation, sightseeing, recreation and safety, sanitation, management and protection station, etc, there will be no accommodation, catering, shopping and entertainment facilities planned in the main landscape area.

The general recreation area is divided into five scenic spots, including the Zhongshan Arboretum, the Jinzhong Lake, the Guxiang Forest Park, the Matishui Waterfall and the Longtang Scenic Spot, which account for 65.81% of the total area of the forest park.

The ecological conservation area, that is the Maling Ecological Conservation Area, is located in the western part of the forest park. It embodies the catchment area of the Maling Reservoir and the surrounding mountains. Visitors are not allowed to enter this area without permission.