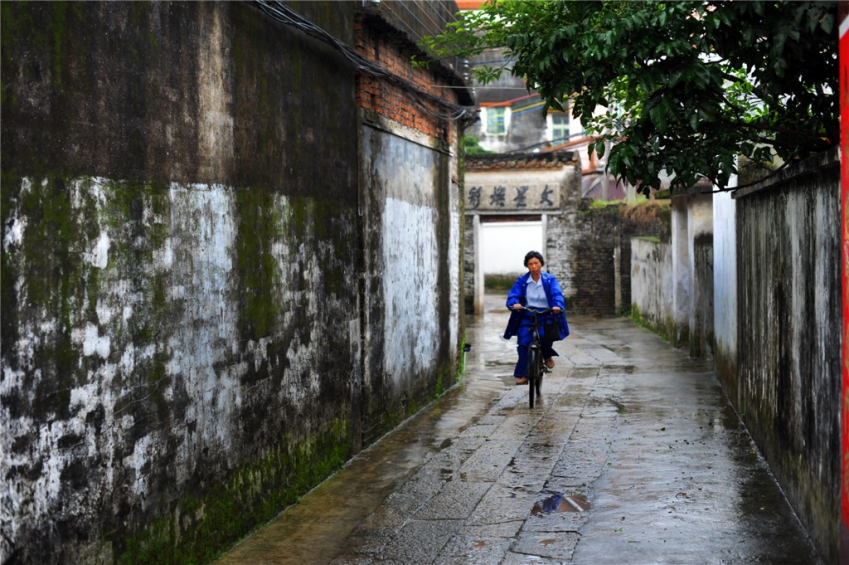 Guhe Village. [File photo by Wu Feixiong]
Sanxiang Town, situated in the south of Zhongshan, north of Wugui Mountain, is surrounded by hills on all sides.

The ancient Guhe Village in Sanxiang is a cultural village with a history of nearly 800 years. Legend has it that in ancient times there were many birds inhabiting mountains and forests, mostly white cranes, which earned the village the name "Guhe" ( "old crane" in Chinese).

In Guhe Village, both streets and houses have a strong cultural presence. There were four long and simple rocky roads built during the Qing Dynasty, with a total length of about 1,800 meters, showing more than 800 years of glamour as well as the historical and cultural memories of the ancient village. Villagers refurbished the rocky roads in 1922 and have spent huge sums of money in recent years rebuilding the village's landscape.

There are many archways in Guhe Village, which is rich in cultural landscapes. Each archway represents both glory and good educational tradition of the village.

While moving straight along one of the rocky roads, you will see the "Philanthropic" archway granted by the Guangxu Emperor of Qing Dynasty at the north gate. The four-pillar, three-room, and three-story archway is carved out of granite and 8 meters high, with a drum-shaped bearing stone embedded beneath the pillars.

There are three ancestral halls in this small village, all nearly 170 years old. In Zheng's Ancestral Hall, the inscription of the tenet "harmonious clan" is consistent with the spirit of inclusiveness and harmony that Guhe Village has been advocating since ancient times.

Guhe Village covers an area of 5.6 square kilometers. There is a reservoir of nearly 400 mu (about 266,666.7 square meters), capable of supplying water for the village and it serve as a scenic spot for viewing and leisure.

In the village there are also 6,000 mu (about 4 million square meters) of mountain forests and dozens of ancient trees, including 4 listed in the Zhongshan ancient tree library.