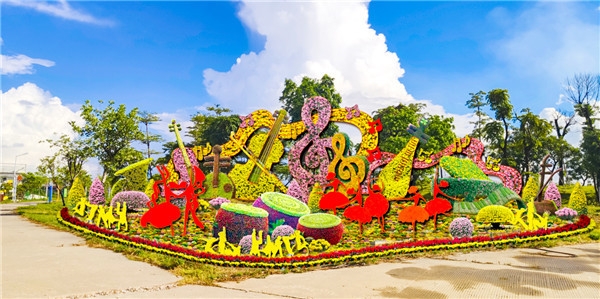 The 2020 Xiaolan Chrysanthemum Fair is planned to be held at the Chrysanthemum Garden in Xiaolan Town from November 22 to December 13.

With the theme of "Flowers of Chrysanthemum City and Winds of Xiangshan", this year's event has a main exhibition area of about 23.3 hectares (including 3.3 hectares of water features), with 25 large-scale flower sculptures and a total of 250,000 potted chrysanthemum on display.

Nine zones will be set up for Chrysanthemum Art, famous Chrysanthemum, sea of flowers, light show, delicacies, art performance, creative bazaar, edible Chrysanthemum culture exhibition and culture exhibition respectively at the fair.

The Chrysanthemum Art zone is named "Road to Prosperity", and it includes 25 sets of flower sculptures related to cartoon, good luck and happiness, health and environment protection, gardening, Lingnan water village style, and other themes.

Tickets for the Xiaolan Chrysanthemum Fair are 20 yuan from Monday to Friday and 30 yuan from Saturday to Sunday. Tourists can buy tickets at the entrance, or through WeChat account "小榄菊花会" (Xiaolan Chrysanthemum Fair) and such official channels as the official website of JC Travel (www.jcjq.com.cn).