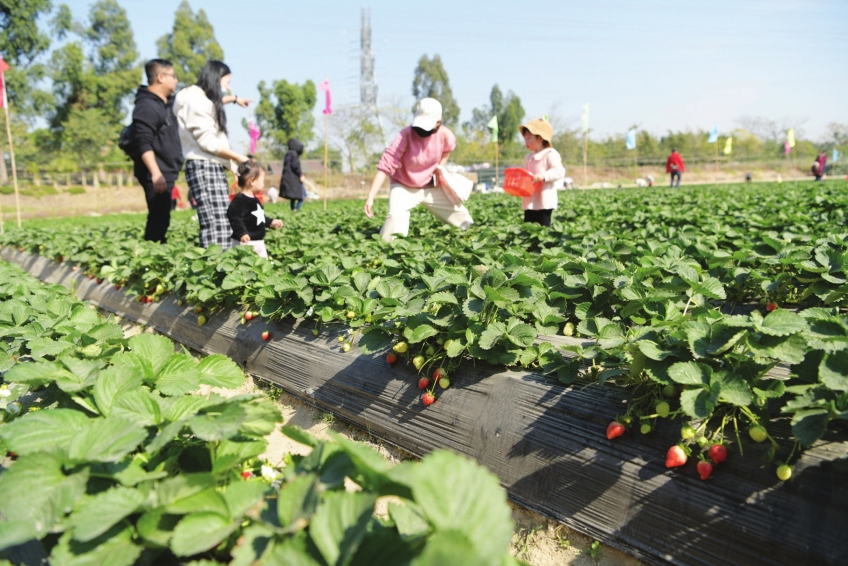 The weather in Zhongshan was fine during the 3-day New Year holiday. Citizens actively observed anti-epidemic regulations and went to various scenic spots and parks in Zhonghsan for leisure and entertainment. Self-driving tours and short-distance tours were popular, while outdoor ecological tours and rural excursions continued to boom.

At present, strawberries are ripe and ready to be picked. Many residents in Zhongshan went to the strawberry farms to pick the fruit themselves. At the Xujing Ecological Farm in South District, more than 6.667 hectares of strawberries were all picked on the first day of the holiday.

Meanwhile, some 2,678 tourists visited Guanneng Farm in Dayou Village, Fusha Town, from January 1 to 3. "The number of tourists during the New Year holiday was twice that of last year," said the person in charge of the scenic spot.
Festival activities were held in Zhan's Garden, a national 4A scenic spot, to attract tourists. Activities included "New Years Ox Whipping", where an Ox statue is ceremoniously hit to bring good fortune, walls decorated with red paper lanterns, corridors of hanging paper umbrellas, etc.

"The fine weather contributed to the surge of tourists to the strawberry farm during the 3-day holiday, and the number was higher than last year. I feel that local tourism is recovering," said the head of Quanlin Happy World, a new national 3A scenic spot. "There are various tourism activities suitable for family trips. According to a survey, Zhongshan locals account for 45% of the total tourists in the area."

In addition, rural tourism was also booming in Zhongshan during the holiday. Yakou Village and Zuobu Village in Nanlang Town were popular among tourists.