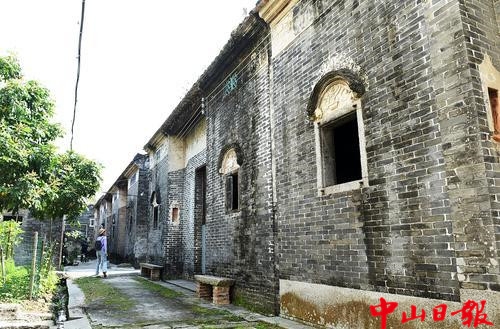 Zuobu Village in Nanlang Town. [Photo/Zhongshan Daily]
The Department of Culture and Tourism of Guangdong Province recently announced the second list of 103 "Guangdong Special Culture and Tourism Villages". Four villages in Zhongshan were included, namely Guhe Village in Sanxiang Town, Caobian Village in South District, Zuobu Village in Nanlang Town, and Xinshi Village in Xiaolan Town.

Guhe Village is one of the most well-preserved ancient villages in Zhongshan and has been included into the protection, revitalization, utilization and demonstration section of the Shiqi-Macao Ancient Road in Zhongshan. Many ancient dwellings and historical and cultural relics in the village are well protected, and more than 100 ancient buildings have a history of over 100 years.

Caobian Village, which has a history of nearly 1,000 years, boasts many historical and cultural heritage sites such as Caobian Township School, the Wuhou Temple, the Tianhou Palace, the Waterwheel Hall, watchtowers, the Number One Scholar Plaque, blue brick houses, slabstone streets, and the Longjing Spring. In addition, the carved and painted houses here are irresistibly charming.

Zuobu Village is not only the ancestral home of Sun Yat-sen, but also the hometown of Fang Juzan, Ruan Lingyu, Fang Cheng and Ou Chu. Numerous cultural relics in the village, such as buildings and streets built in the late Qing Dynasty, tell the history of the region. In recent years, the beautiful new rural construction and artistic wall painting in Zuobu Village have attracted many tourists.

Xinshi Village (Community), located in the center of Xiaolan Town, was founded in the Southern Song Dynasty with a history of more than 800 years. It has always been the political, economic, financial, cultural and educational center of Xiaolan as well as the busiest area of the old Xiaolan district. Tertiary industry clusters, think tanks and cultural resources are relatively concentrated in the village.