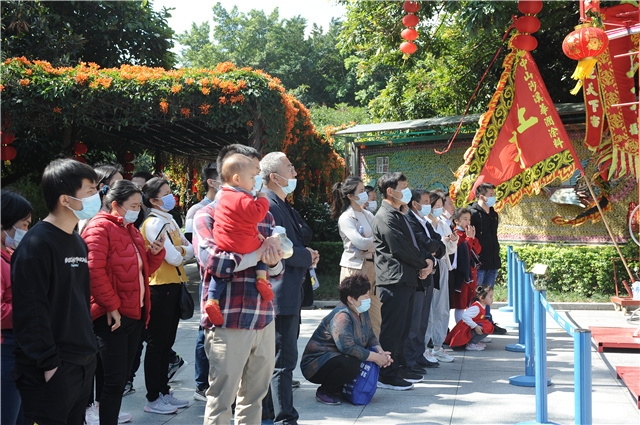 On February 17, January 6 of the lunar calendar, even though it was already noon, many tourists arrived at the Zhongshan Studio City to spend the last day of the Spring Festival holiday.

Chinese Zither performance, tea ceremony, Qipao Latin dance show, calligraphy and traditional blessing activity, traditional snack market and other activities were presented all day long at the Zhongshan Studio City to create a beautiful and traditional atmosphere for the Spring Festival.

The scenic spot saw its tourist flow reaching the peak on January 1 and 2nd of the lunar calendar. The number of tourists was 8.4% higher on the first day of the Chinese new year and 7.31% higher on the second day than 2019.

In the Museum of Dr Sun Yat-sen, each exhibition area was adorned with festive decorations, and many photo areas were also set up. During the Spring Festival, a series of online and offline exhibition activities were launched to present a plethora of cultural experiences to tourists, including a postcard exhibition, dragon and lion dance exhibition, online micro classes, etc. According to staff members, there were more than 10,000 tourists on January 2 to 4 of the lunar calendar, and over 9,000 tourists on January 5.

Due to the extenuating circumstances of the COVID-19 pandemic, local tours have become many citizens' first choice to celebrate the Spring Festival. All major parks in Zhongshan were open as usual. From the eve of the Spring Festival to January 5 of the lunar calendar, a total of over 480,000 tourists visited 13 municipal parks. Among them, Zimaling Park was the most popular, with more than 30,000 visitors on the Lunar New Year's Day.