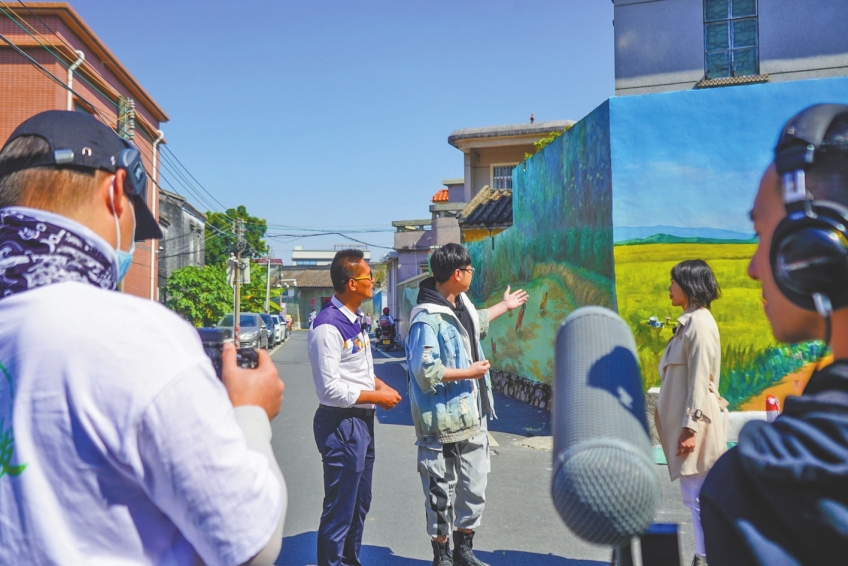 The film crew of the special video program "Let's Go, Youth" of the Communist Youth League Central Committee came to Zuobu Village, Nanlang Sub-district on November 13. Wuhe Qilin, a popular CG artist served as Zhongshan's field reporter for the program and talked with local young people as well as visiting the Zhongshan Studio City, Shengshi Village in Shaxi Town and the Zhongshan Cartoon Museum to experience the customs and scenery of the city.

While the program crew walked around in Zuobu Village, Wuhe Qilin came across several artists working on a mural. He couldn't help watching and participating, and left some touches themed around rural revitalization. Wuhe Qilin frankly said that he was refreshed by the lifestyle and happiness of the people here, and the beautiful rice fields and well-maintained infrastructure impressed and inspired him. .

Wuhe Qiling expressed his belief in Zhongshan as a city where traditional and modern culture coexist. "Zhongshan is a comfortable and dynamic city suitable for young people to live in and work in. Here, young people can embrace more hope." He admitted that he would like to live in Zhongshan if he had the chance in the future.