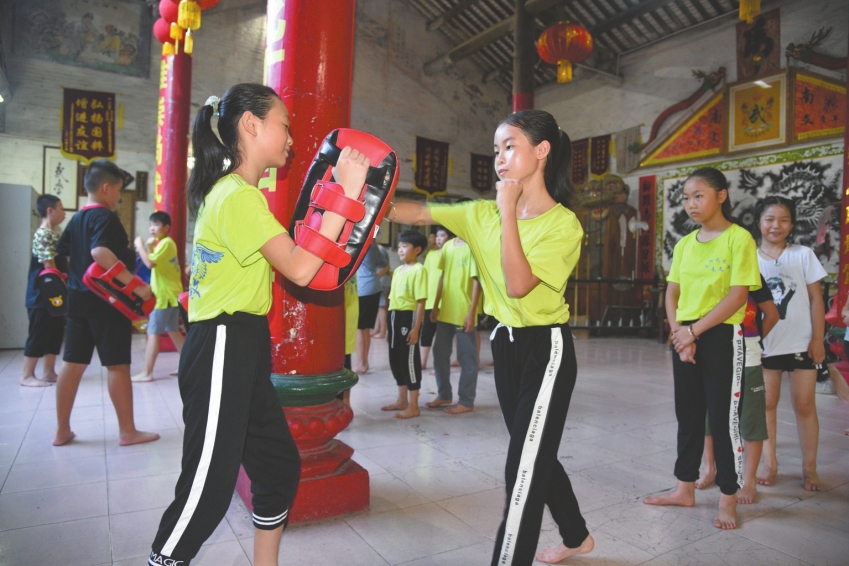 Children are practicing Wushu (Chinese martial arts) in the "Youths' Paradise". [Photo by Li Xusheng]

As the night comes, the Yingcui Ancestral Hall in Nanwen Community of Dachong Town gets lively. Villagers call this place "Youths' Paradise", where many children learn and practice Wushu under the instruction of masters.

Nanwen Community has a tradition of "upholding civil and martial virtues" since ancient times. In order to provide young villagers with a fitness place and a healthy sparetime life, in 1978, Xiao Runyuan, the then Youth League Committee secretary of Nanwen Village, proposed to establish the "Youths' Paradise" for the imparting of Wushu and the development of traditional lion and dragon dance skills.

After over 40 years, the then young masters have been in their seventies, and their apprentices have become current masters who teach children Wushu.

Xiao Boxing, 70, is the second generation of Wushu inheritor in the "Youths' Paradise" who learned from his master Xiao Xianming. "When I was young, I hoped to have a place to practice Wushu. The dream finally came true in 1978," Xiao Boxing recalled.

The Youths' Paradise is open to the whole village for free. When the night comes, villagers will come here to watch Wushu practice. Xiao Jinxian the Curator, also an apprentice of Xiao Xianming, teaches young people boxing, seven-star sword, double-head spear and other Wushu techniques as well as lion and dragon dances skills together with Xiao Boxing.

The number of people studying Wushu continues to increase, reaching a maximum of nearly 200. The community also allocates funds to set up a lion and dragon dances performance group, who has shined at the community Wushu events and won prizes in the city-level and town-level competitions.

The Youths' Paradise has also launched public welfare training course since 2017. "Anyone who is interested in Wushu can attend the course," said Xiao Zhanlong, a master born in 1992. About 20 female learners have signed up for the course now.

In recent years, Nanwen Community has paid more attention to the inheritance of the Wood Dragon Dance, which will be performed at the annual "Dragon King's Birthday" event and the "April 8th"activity. It also has been listed as one of the municipal intangible cultural heritage projects.