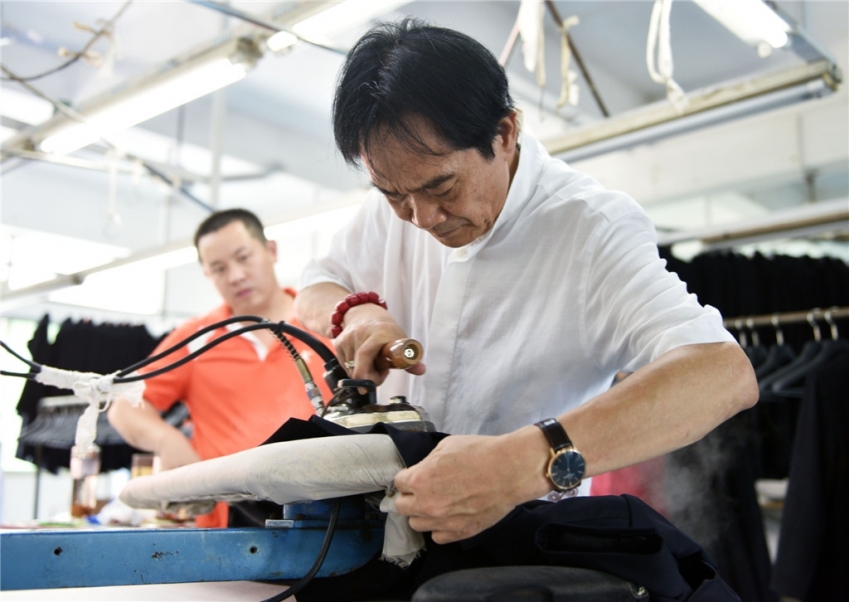 Chen Wenzhu is making a Zhongshan suit. [Photo/Zhongshan Daily]

Chen Wenzhu, a 67-year-old tailor, has been devoted to making Zhongshan suit, or Chinese tunic suit, a formal traditional Chinese suit, for more than 50 years with his family crafts. Based in Zhongshan, he produced tailor-made Zhongshan suits for dignitaries and celebrities worldwide, in a bid to continuously spread the Zhongshan suit culture to the world.

Chen Wenzhu was very happy when speaking of the past. Over a decade ago, he made a well-fitting, customized Zhongshan suit for Nobel Prize winner Samuel Chao Chung Ting, who came to Zhongshan for a made-to-order Zhongshan suit. Later, another Nobel Prize winner Eric Maskin also came to Chen for a custom-made Zhongshan suit.

"I am very proud to make many people around the world feel the charm of Zhongshan suit with this pair of scissors, which have been with me for 52 years," Chen said. In his photo album, there are pictures of him and foreign friends in Zhongshan suits, many of whom are dignitaries or academic celebrities.

With his attitude of striving for perfection and meticulous craftsmanship, Chen Wenzhu wins praise from foreign friends, and he is honored as the "Ambassador of Zhongshan Suit".

The secret of making Zhongshan suit has been passed on for generations in Chen's family. Influenced by his grandfather, Chen Wenzhu began studying sewing skills at a very young age. He had learned to make Zhongshan suit at his 15, and since then he has been improving the crafts.

In order to popularize Zhongshan suit, Chen Wenzhu came to Macao from Fujian province over 30 years ago. Later, he was suggested that Zhongshan suit should take root in Zhongshan city, the hometown of Sun Yat-sen. Therefore, Chen Wenzhu established his company in Zhongshan.

Over the years, along with his successor Chen Fuxing, Chen Wenzhu developed Zhongshan suit to over 200 styles, including the "Colorful Zhongshan Suits" series.

Now Chen Wenzhu is using computers, CNC cutting machines and other modern equipment in his Zhongshan suit research studio. "These modern devices do improve our efficiency, but sometimes we still have to slow down for the essential parts," said Chen Fuxing, son of Chen Wenzhu, also the 4th generation successor of the Chen's Zhongshan suit.