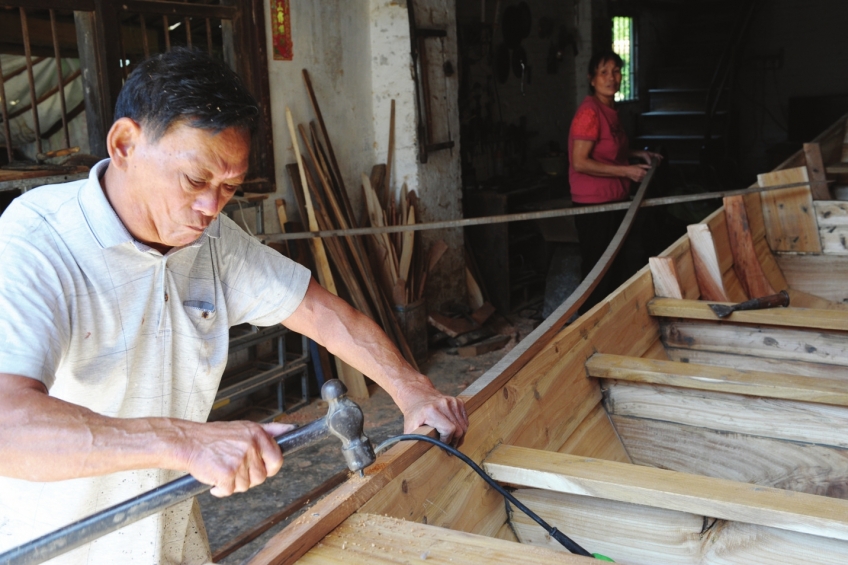 Fan Jianxiong (left) and his wife Liang Shengcai were building a new boat at their boatyard. [Photo by Ming Jian]

Gangkou town, with rivers crisscrossing, developed into a polder area in the late Qing Dynasty and was named "Gangkou" (means "port" in English) as it was an important port on the way from Shiqi District, Zhongshan to Guangzhou. Half a century ago, boats were the most important means of transportation for waterside dwellers. Fan Jianxiong who grew up along the rivers in Gangkou began his career exactly in that golden age of boat-building industry.
However, over the decades, bridges have been built over the rivers, and boats were replaced by automobiles, leading to a decreasing number of boat builders in Gangkou. Today, Fan Jianxiong and his wife are probably the last group of boat builders in the water town who still operate a century-old boatyard by the river.
West Street was once known as the "boat-building street" in Gangkou Town. Fan Jianxiong's ancestors opened a boatyard on this street over a hundred years ago and built boats for a living. About 20 years ago, Fan reopened the boatyard, hoping to continue the ancestral craft.
At the break time, Fan reviewed his boat-building experience. Around 50 years ago, the golden age of boat-building when boats were still the most important means of transportation for waterside dwellers, Fan dropped out of primary school and started to learn boat-building in a boatyard.

At the age of 40, he resigned from the boatyard and opened his own with his wife. Fan was in charge of boat-building, and his wife helped him fill in ash and paint oil. At that moment, Fan's boatyard could receive a dozen orders per month, and each finished boat could be sold for thousands of yuan.

When wooden boats gradually disappeared from the stage of the history as a main traffic tool, Fan's clients had become fishpond owners from ordinary villagers, and the monthly orders decreased to only three or four (boats).

Sometimes, the couple received orders to make commercial boats. The decorative fishing boat placed in the Central Power Plaza, for example, is a creation of them.

"Boat-building is a hard work. We are getting older, but we will keep making boats from day to day," said Liang Shengcai, adding that only one or two boatyards among previous many are still operational on the street.