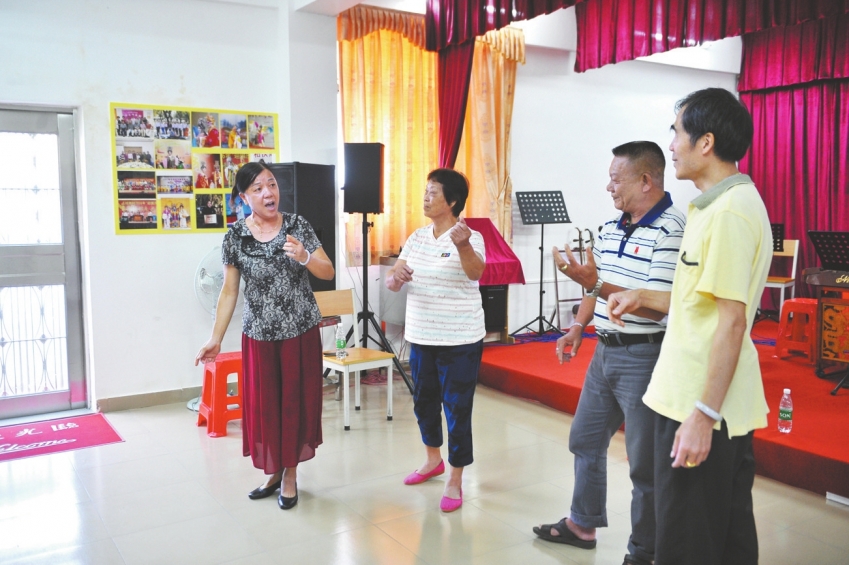 Mao Zhangdi (first from left) and her companions practice the newly-created Baikoulian Mountain Song in the Guinan Opera Troupe on September 19. [Photo by Miao Xiaojian]

One day in late September, lingering and clear voices of singing came out from the Guinan Opera Troupe in Wuguishan District and echoed around the village street corners. What those old people sang was Baikoulian Mountain Song, one of the traditional Hakka folk songs in Zhongshan.

Baikoulian Mountain Song is one of the most prevalent traditional folk songs in Zhongshan especially in Wuguishan District, Nanlang Town and other areas. It is mainly sung in Hakka and Cantonese with the tune of Salty Water Song. In 2007, Baikoulian Mountain Song was listed by the provincial government as a representative intangible cultural heritage project of Guangdong Province.

Mao Zhangdi was exposed to mountain songs from a young age, since her father loved to sing these songs. After a long time of cultural work, she found the Baikoulian Mountain Song, the unique cultural treasure of Wuguishan, was on the verge of extinction.

In 2009, Mao Zhangdi got retired, and she started the protection work for Baikoulian Mountain Song in a bid to pass it down from generation to generation. Meanwhile, Mao Zhangdi also began to learn Baikoulian Mountain Song and formed a Baikoulian Mountain Song team that is made up of old people.

Over the past 10 years, the team created hundreds of impressive mountain songs, which make the long-lost Baikoulian Mountain Song resound again in the serene Wugui Mountain.

In August this year, Mao Zhangdi was elected as the representative successor of Baikoulian Mountain Song, one of the 6th municipal representative intangible cultural heritage projects.

In recent years, the Wuguishan District Office and Guinan Village Committee are advancing the protection of Baikoulian Mountain Song. The latter also provided the Guinan Opera Troupe a rehearsal room, which is equipped with a stage, sound facilities and professional traditional music instruments.

Despite good conditions for rehearsal, there are still very few young people willing to learn Baikoulian Mountain Song. In Guinan Village, only 4 opera troupe members, 63 on average, are capable of carrying on the inheritance of Baikoulian Mountain Song.

However, what makes Mao Zhangdi delighted is that some parents in the village will send their children to the opera troupe to learn Baikoulian Mountain Song during summer and winter vacations.