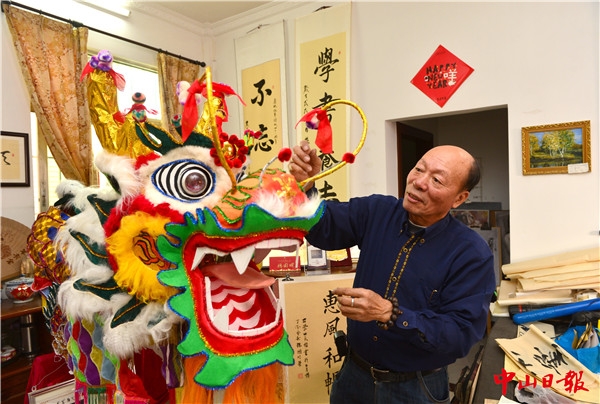 When it comes to the Qiwan Golden Dragon, people have the impression that it is a mighty dragon that takes dozens of strong men to operate in the "Zhongshan Charity Parade" each year. Recently, Zhongshan Daily's reporter saw the first ever mini Qiwan Golden Dragon in the studio of inheritor Yang Guoming. This version is only a quarter of the original size.

This mini golden dragon just won the bronze award at the 2019 Guangdong Arts Expo (GDAE).
Each Qiwan golden dragon is 63 meters long, and it is famous for its mighty appearance and vibrant colors. Its head weighs about 30 kilograms. In 2012, the fabrication techniques of the Qiwan Golden Dragon was included in the "Zhongshan Municipal Intangible Cultural Heritage List". Yang Guoming has even won the title of "Representative Inheritor".

In order to fashion a golden dragon in such a short time that could be entered in the GDAE, Yang Guoming created new innovative techniques to the traditional golden dragon fabrication. The result was the production of the first mini golden dragon. Yang Guoming spent two-thirds of the build time on making the dragon head alone.

"Winning the award was not my first intention. What I truly hoped was that I could pass on the new fabrication techniques of the Qiwan Golden Dragon and give more people a better understanding of our traditional culture," Yang Guoming said.