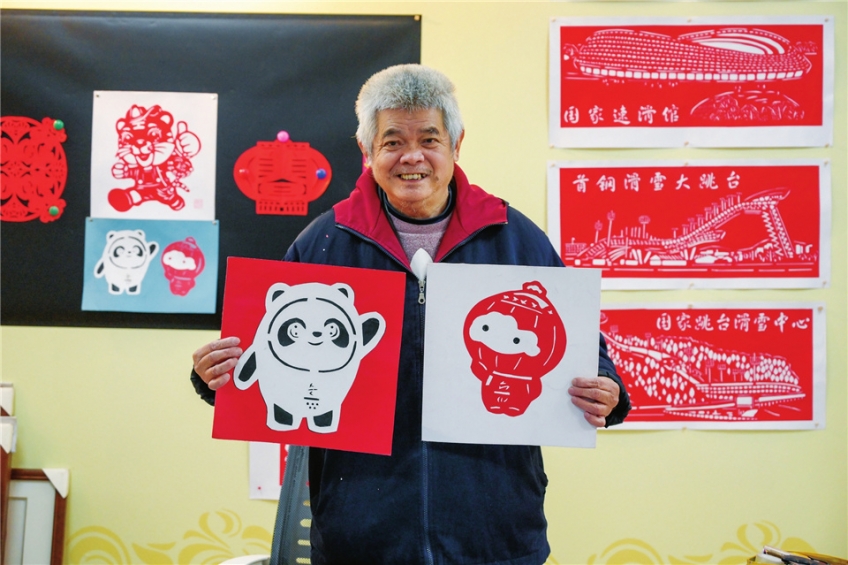 The public's eyes have been drawn to the 2022 Beijing Winter Olympics since February 4. Paper-cutting expert Liang Jiekang, also director of the Zhongshan Folk Literature and Art Association, expressed his blessings to this grand event in a unique way. He created hundreds of paper cuttings themed on the Winter Olympics including the mascot "Bing Dwen Dwen".

While one hand clenched scissors, the other hand held white paper. Liang cut out a lifelike "Bing Dwen Dwen" with scissors and white paper in a short time. "It takes almost 20 minutes to cut a 'Bing Dwen Dwen', and I can make 8 of them at a time," said the 76-year-old.

Liang became interested in the mascot "Bing Dwen Dwen" as early as last November. The 2022 Beijing Winter Olympics paper cuttings are displayed on the table and walls of his workshop. Liang is familiar with every pose of 2022 Olympics mascots "Bing Dwen Dwen" and "Shuey Rhon Rhon" from every event this Winter Olympics.