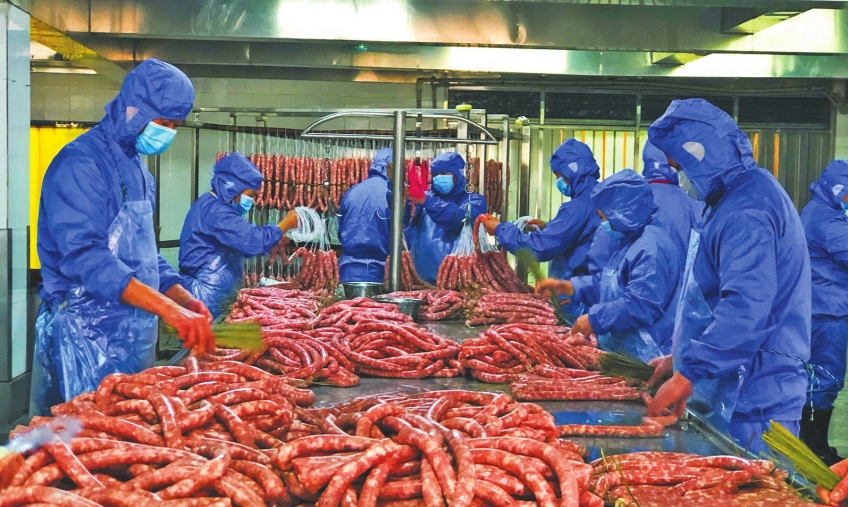 Preserved meat making is the leading agricultural industry in Huangpu Town, with an annual output of more than 200,000 tons and a production value of over 3 billion yuan. At present, Huangpu is the largest professional base for the production and processing of "Cantonese preserved meat" in China.

In May 2020, Huangpu Town, relying on the advantages of its preserved meat making industry, started to build itself into a strong national agricultural industry town. With the support of financial funds from the central government, 10 large-scale preserved meat enterprises in the town partnered up to upgrade their software and hardware facilities and equipment. The upgrade projects involved the expansion and improvement of cold storage facilities, the construction of intelligent processing lines, the establishment of meat quality and safety testing centers, etc.

After more than half a year, these projects have entered the mid-term acceptance phase starting in last December. As of January 6, the mid-term construction project of a strong national agricultural industry town has passed inspection.

In recent years, Guangdong Wing Yip Food Co Ltd has been committed to upgrading its software and hardware equipment. The company has invested more than 6 million yuan to purchase R&D and quality inspection devices. In addition, its new factory building, which will be used for production, culture promotion and quality inspection, is currently under construction. Wing Yip Food also plans to introduce a third-party certification agency to improve the credibility of the food inspection reports.