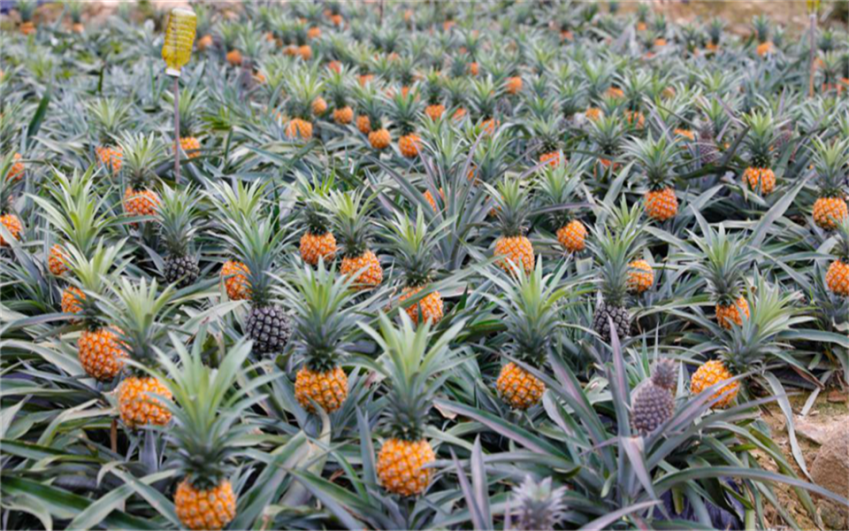 As soon as People's Daily introduced pineapples in Xuwen County, Guangdong Province, they became popular and the region was honored as "the pineapple sea". In fact, Shenwan Pineapples grown in Yaji Mountain in Zhongshan are also delicious and famous. Moreover, pineapples planted on the mountain will be on sale in the market starting from the mid or late March.

"The temperature is relatively high after the Spring Festival, which is especially suitable for the growing of pineapples. The harvest is expected to be much better than that in previous years. Fruit farmers are ready to welcome the arrival of citizens," said Chen Qianwen, owner of Ziyou Farm in Shenwan Town.

"At present, there are about 233.3 hectares (3,500 mu) of pineapple farms in Shenwan Town, with an annual output of 2,500 tons. Some 70% of the pineapples are directly picked and purchased by Zhongshan and surrounding citizens, and the remaining 30% are sold to the rest of the country through e-commerce channels," said Chen Shaohua, deputy director of the Shenwan Agricultural Service Center.

In 2017, Shenwan Pineapple was approved as a national geographical indication protection product. It is also one of the three famous Zhongshan agricultural products protected by the National Products Of Geographical Indication classification.

Pineapples are native to the tropical zones of South America. In 1915, Li Guohan, an overseas Chinese living in Peru originally from Shagang Village, Shenwan, returned his hometown with pineapple seedlings and planted them on Yaji Mountain around Shagang Village. Since then, pineapples have become very popular, and are known today as "Jinshan" pineapples.