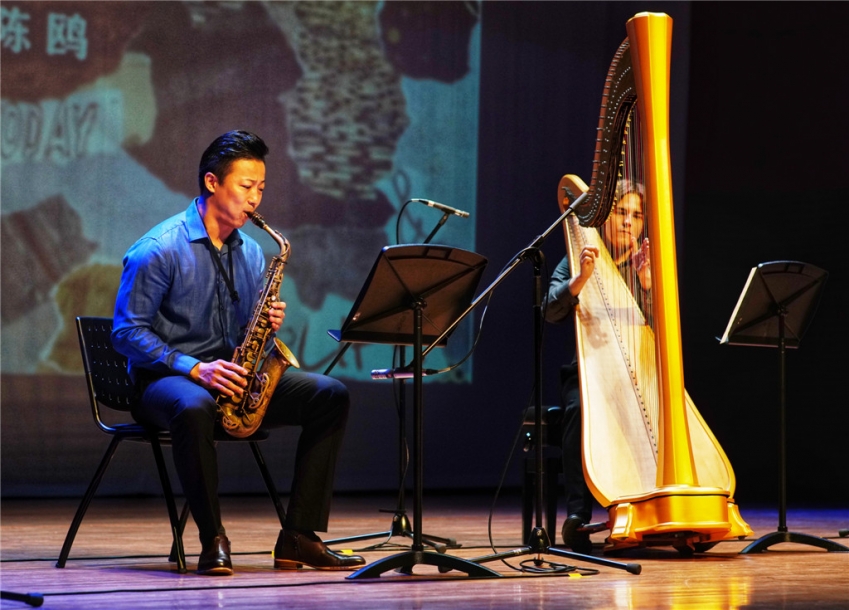 The harp and the saxophone were played together in harmony at the concert. [Photo by Sun Junjun]

The harp is considered as the oldest plucked instrument in the world. It has exquisite sound, and it can make infectious, soft, melodious lyrical music section or cadenza. The harp is also thought to be "the most beautiful musical instrument in the world".

On the evening of August 5, Karol Czopka, the Polish "Harp Prince", and Zhou Lei were invited to the Art Salon on Tuesday at the Zhongshan Culture & Art Center. Joined by Chen Ou, Ding Qiannan and Zhang Yue, they provided the audience with a touching concert with harps, cello, piano and saxophone.

At the art salon, "Ave Maria" played by the harp and cello brought the audience back to the classical age, while "Duke" played by the harp and saxophone was full of jazz style. An ensemble of the the harp and piano made "Libertango", reflecting the rhythm and vitality of the old musical instrument.

In the interview, Karol said that his career of harp playing is closely related to his family education. "My mother is a harpist. When I was seven, I started learning harp from her. Later I took part in some performances and competitions, where I gained affirmation."

The harp plays an important and indispensable role in a symphony orchestra. Karol hopes to discover more of its timbres and show more diversified harp music.