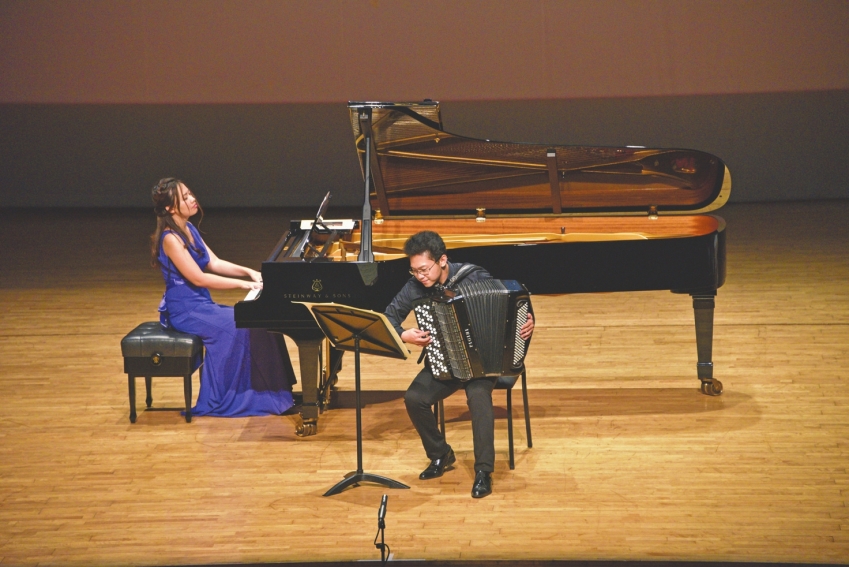 Xu Gehui (L) and Xu Xiaonan joined hands to play beautiful and touching music at Zhongshan Culture & Art Center on September 24. [Photo/Zhongshan Daily]
Graduated with full marks from Germany's Hanover University of Music, Drama and Media, the "Harvard of the Piano World", young pianist Xu Gehui, student of Prof Arie Vardi, the world's best-known piano educator, conductor as well as teacher of Li Yundi and Chen Sa, amazed the audience in her international classical music debut performance. She won a series of Chinese and foreign prizes, including the third prize in the International Maj Lind Piano Competition in Helsinki, Finland.

On September 24 and 25, Xu Gehui and young accordion performer Xu Xiaonan were invited to Zhongshan Culture & Art Center, where they joined hands to play beautiful and touching music.

At the concert on September 24 night, Xu Gehui performed a variety of songs, including the Ghost Fire, one of the most difficult piano etudes in history, the Sonata in B Minor, a half-hour song, and the exceedingly fascinating and charming Hungarian Rhapsody.

"She has exceptional musical sensibility, and she can play smooth and natural music," said Gan Lin, music director of the concert.

While studying abroad, Xu Gehui participated in various competitions and gathered a wealth of experience. "It's not just about winning. It's about giving yourself the pressure and motivation to learn. You can also learn a lot from the interactions with other competitors from different countries and over time you will be able to make friends with those familiar faces," Xu Gehui said with smile.

At a lecture for piano teachers in Zhongshan she gave on September 25, Xu Gehui shared her learning experience in Hanover and explained the key points of piano music style in different periods.