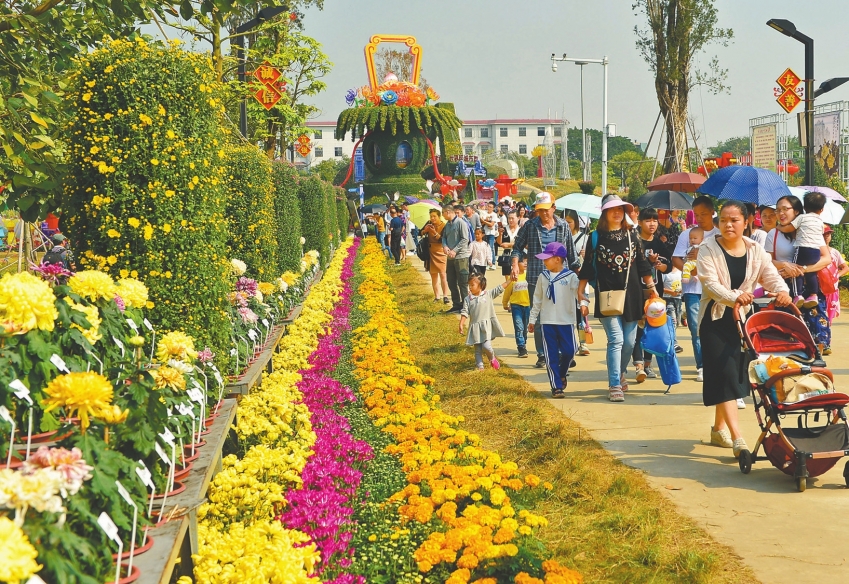 The 2019 Xiaolan Chrysanthemum Fair opened on November 23, attracting numerous flower lovers. [Photo by Xia Shengquan]

This year's Xiaolan Chrysanthemum Fair opened in the Xiaolan Chrysanthemum Garden on November 23, with the theme "70 Years of Glory, Dream of a New Era".

The venue covers an area of about 350 mu (about 233,333.3 square meters), including 50 mu (33333.3 square meters) )of water area. About 250,000 pots of chrysanthemums, 20 large and medium-sized chrysanthemum sculptures and cultural performances are presented to display the great achievements made in the course of 70 years since the founding of the People's Republic of China.

The Xiaolan Chrysanthemum Fair contributors and winners of the chrysanthemum sculptur competition and the chrysanthemum landscape "gold medal" were awarded at the opening ceremony.

An award ceremony was organized before the opening to announce the winners of the annual Zhongshan "Top 10 Chefs", "Top 10 Ingredients", "Top 10 Dishes, Top 10 Desserts", "Top Ten Banquets", "Top 20 Restaurants" and "Honorary Masters of Cantonese Cuisine".

At the Xiaolan Chrysanthemum Fair, citizens can also enjoy the elegance of Zhongshan cuisine in the "Cantonese Cuisine Chefs" exhibition area.