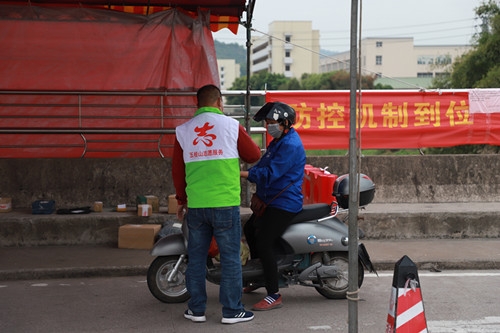 The anti-epidemic themed micro film "Guardian Action", initiated by the stock cooperative of Longtang Village in Wuguishan District and directed by college student Liu Xuhao, featuring volunteer villagers and Longtang staff, was freshly released.

The 5-minute film describes the real situation of Longtang Village's anti-epidemic front line in the plainest way, leaving valuable image data for people who have fought or are still fighting on the anti-epidemic front line.

Liu Xuhao is a senior student majoring in packaging design in Hunan University of Technology. Shooting micro-movies is his hobby.

The university postponed the opening day due to the epidemic. Liu Xuhao, who plans to join a Master's program, was forced to study at home. Just after the Lantern Festival, Gu Yongqian, Party secretary of Longtang Village, told him that the village planned to make an anti-epidemic themed micro film, hoping that he could take on the important task of shooting the film. Liu Xuhao agreed without hesitation and promised to do this job for free.

The whole film is divided into three parts. The song "Waiting for Wind and Rain to Pass" composed by Jay Chou, written by Vincent Fang and performed by Jacky Cheung was selected as the background music of the second part, which expresses the hardships of anti-epidemic work in the form of a music video.

After continuous editing, the film was recently released. Platforms such as "Wuguishan Fabu", "Zhongshan Fabu", and Zhongshan Daily APP successively reported and promoted the film.

Scan the QRcode to watch the micro film