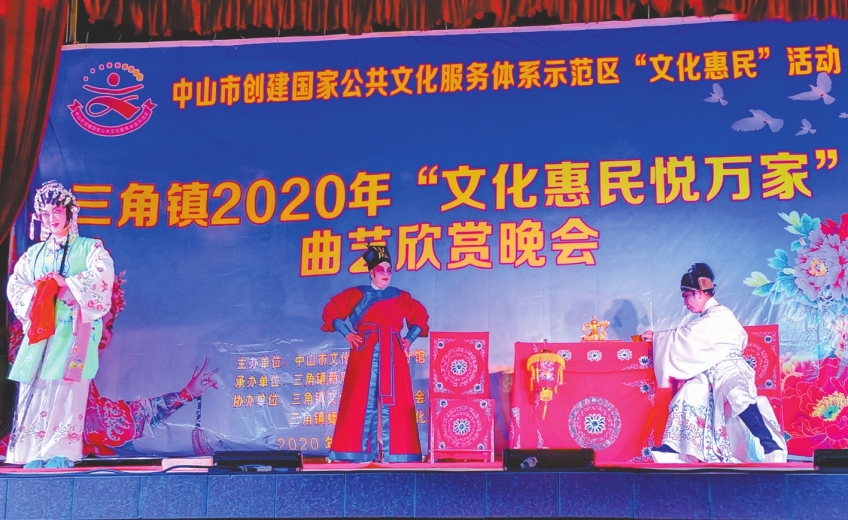 A few days ago, Sanjiao Town held two back-to-back Cantonese opera performances in the open square of Panlong Village. "Romantic Lovers at Jinjiang" and other classic repertoires were staged in turn, which made the audience very satisfied.

Traditional Cantonese opera is very popular in Sanjiao Town and has a solid fan base. The Sanjiao Xinsheng Traditional Folk Arts Troupe, which was the host of these performances, was established in Dongnan Village in early 2014. Besides the villagers in Sanjiao, there are also Cantonese opera lovers from Shiqi, Minzhong, and other towns and districts.

"There are more than 30 members, of whom the oldest is 70 years old and the youngest is only 7," said Li Yinfang, director of the Sanjiao Xinsheng Traditional Folk Arts Troupe. Young members have also integrated saxophone and violin into Cantonese opera for innovation to make Cantonese opera more beautiful and harmonious.

Currently, there are four traditional folk arts troupes and two professional Cantonese opera teams under the Sanjiao Cantonese Opera Association. These art groups often perform for the masses for free.

Next, Sanjiao Town will also hold a variety of cultural activities, such as Cantonese opera parties, dragon and lion shows, variety shows, art salons, cultural lectures, training and exhibitions, to benefit the people.