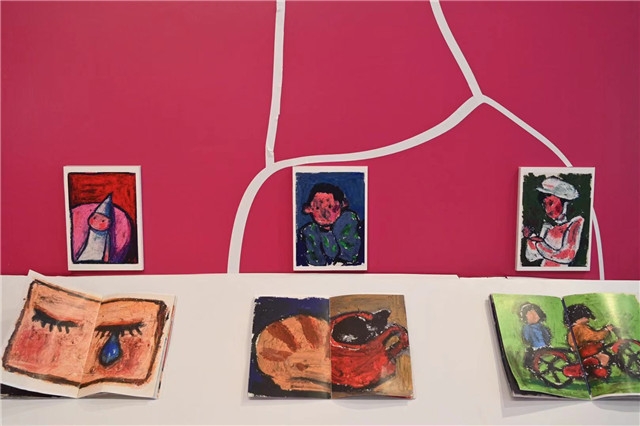 When you enter the exhibition hall of "They Said - Angular Hat Painting Exhibition" located on the first floor of Zhongshan Holiday Plaza, you will feel as if you are in a childlike and illusionary world where reality and imagination are integrated. Illustrations, paintings and other works created by Liao Chujun, a post-90s independent illustrator, convey a positive mental attitude.

Born in Zhongshan in 1992, Liao Chujun has been fascinated by fine arts since childhood. She specialized in digital media and game design when she was studying at the Central Academy of Fine Arts.

"I took a picture book course as an elective course in my university and was drawn in by the illustrations of some French Chinese students I met, which helped me to discover that illustration creation touched me more than painting with a computer." Liao said that illustrations were inspired by real life and contained a high degree of freedom, that is, different emotions and thoughts could be expressed freely through illustration.

In 2015, Liao Chujun began this project, and the image of "angular hat" gradually took shape. The exhibition displayed more than 80 of her works, including watercolor, oil painting works, reprints, and sculpture works. There is a painting experience area and multimedia interactive devices set up in the exhibition to display such peripheral products as mobile phone shells and postcards.

For Liao Chujun, this was not only her first solo exhibition, but also helped to realize her dream to hold an exhibition in her hometown. "I want to show my hometown the works I've created in recent years and contribute to the cultural and artistic development of my hometown."