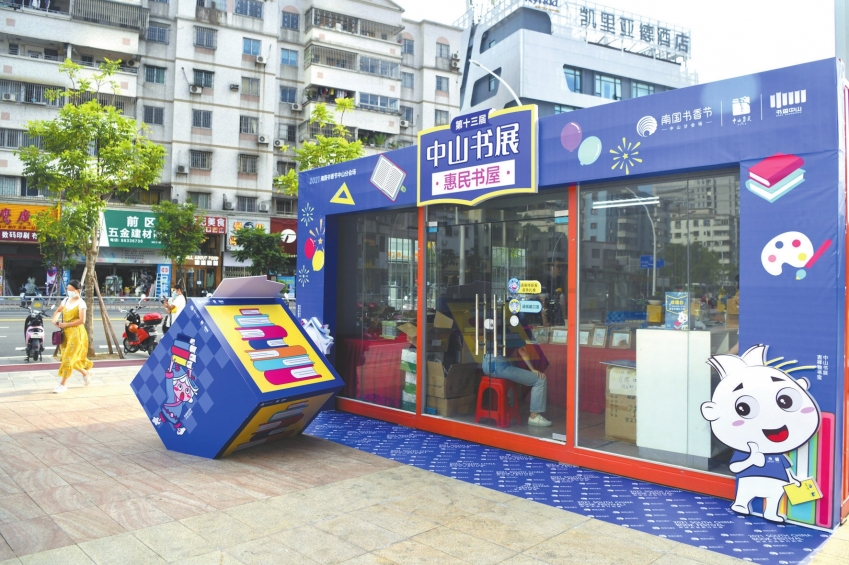 A "Public Welfare Book House" has been set up at the Perfect Eagle Mall in Shiqi District. [Photo/Zhongshan Daily]
The highly anticipated 13th Zhongshan Book Fair kicked off at Sun Yat-sen Memorial Library on the morning of August 20.

"My Favourite Book" selection, one of the highlights of the 13th Zhongshan Book Fair, is underway along with the "Public Welfare Book House" activity. Based on official book recommendation lists such as Chinese Book Recommendation List, Children's Books Monthly and Iconic Books of the Past Century, the organizing committee selected 50 books, covering 5 categories: "topical educational books", "local education books", "children's books", "classic books" and "people's recommendation".

Residents who participated in the online voting of "My Favorite Book" from August 12 to 18 and got "special book purchase coupons" can get a 90% discount on up to 5 books at the "Public Welfare Book House" from August 20 to 30.

The "Public Welfare Book House" boasts over 1,000 books and has set up cultural and creative exhibition and sales areas, special decorations, and areas for interactive activities and taking photos.

An online lecture by Peng Min, the champion of the 5th season of the Chinese Poetry Contest, and an offline presentation by Zheng Fuming, associate professor of South China Normal University, were held in the afternoon.