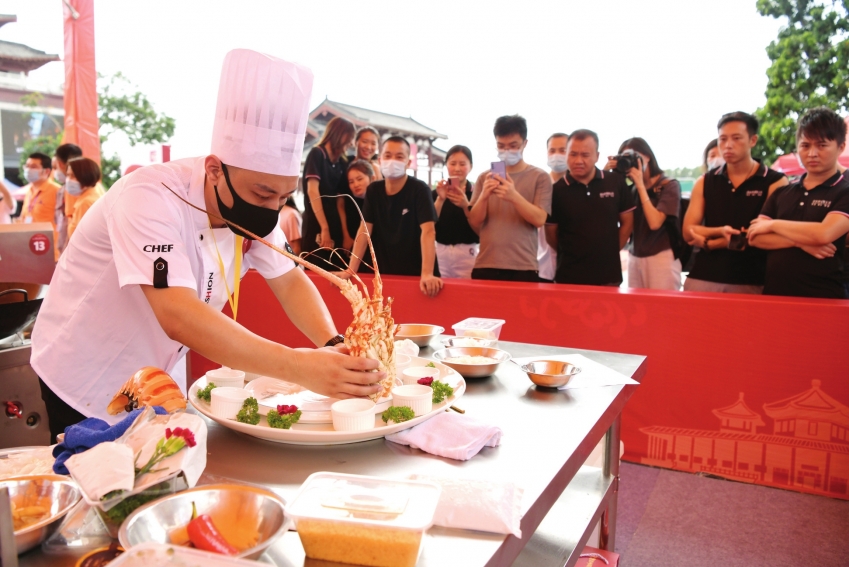 The 2nd Guangdong Vocational Skills Competition - Food Industry Vocational Skills Competition and the National Competition Qualification Trails came to a successful conclusion on August 29 at the Chinese Rosewood Culture Expo City in Dachong Town. A total of 150 top chefs from all over Guangdong competed on the same stage and presented a showdown of Cantonese cuisine.

The competition lasted for 2 days. On August 28 the opening day, Cantonese cuisine chefs took part in a theory test. The practical skills competition was held the next day. The north square of the Chinese Rosewood Culture Expo City was divided into 2 competition areas for Chinese cooking and Chinese pastry baking respectively. In the exhibition area, contestants' dazzling creations attracted many citizens.

After fierce competition, 8 contestants, including Ou Jianxin from Harbour City Restaurant in Zhongshan and Zheng Bo from Guangzhou Restaurant, won first places in the 2 competition groups.

A forum on the "Cantonese Cuisine Chef" program was held at the same time, with influential figures gathering to discuss the future development of the Cantonese cuisine sector. At the forum, 2 Zhongshan "Cantonese Cuisine Rural Tourism Routes", Longdu Route and Nanlang Route, were announced.