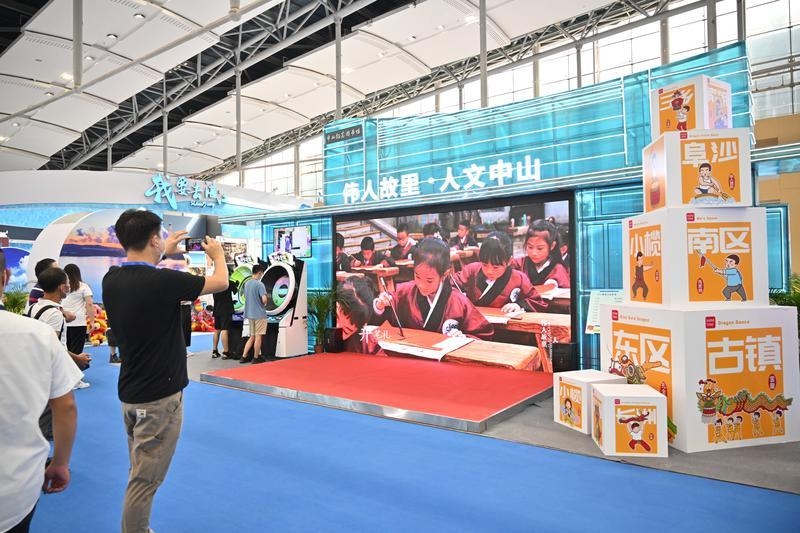 The 2021 China (Guangdong) International Tourism Industry Expo (CITIE) kicked off on September 10 in Zone A of the Canton Fair Complex in Guangzhou. Tourism institutions and cultural tourism enterprises from over 30 countries and regions around the world and more than 10 provinces, municipalities and autonomous regions in China attended the exhibition.

The Zhongshan Culture, Radio, Television and Tourism Bureau organized for 23 major cultural tourism enterprises to participate in the exhibition, setting up a "Zhongshan Pavilion" with an area of 180 square meters to show domestic and foreign merchants Zhongshan's cultural tourism resources and city image.

Zhongshan Pavilion consists of an exhibition area, a performance stage, an interactive area, a reception area, and a negotiation area. A wax figure of Sun Yat-sen, displays of intangible cultural heritage projects in Zhongshan and a VR interaction zone are set up to offer immersive experience.

Many activities promoting local intangible culture heritage projects and cultural tourism resources, such as Drunken Dragon Dance, sand painting and incense performance, would be held every day in Zhongshan Pavilion to introduce famous scenic spots, delicacies and cultural art ICH culture of Zhongshan.