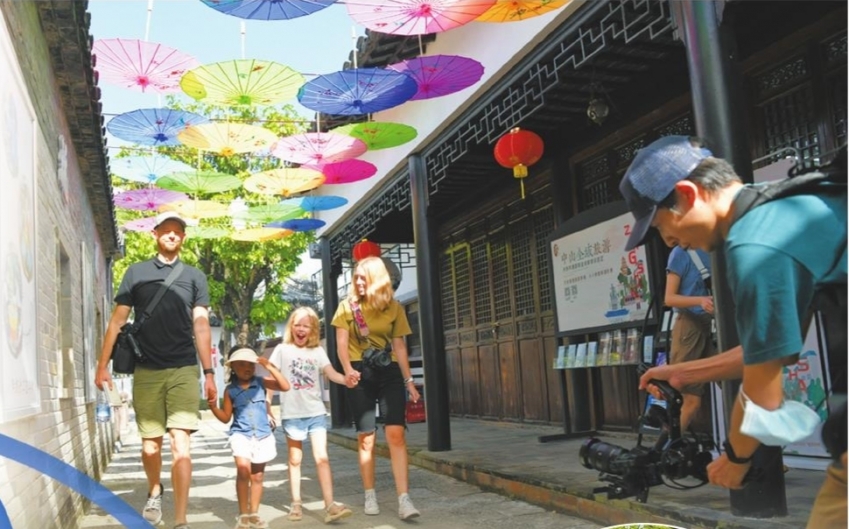 A field survey, part of "My China Story" the 3rd International Short Video Competition, was carried out in Zhongshan on September 15. Online celebrities from China and abroad experienced and recorded the history, culture, natural scenery and urban construction of Zhongshan, the hometown of Dr Sun Yat-sen.

Famous bloggers from all over the country and foreign online celebrities visited the under-construction Shenzhen-Zhongshan Bridge to learn more about the rapid pace, advanced technology and various innovations of China as an "infrastructure giant".

"Great! I've heard about this project before but today I came to the site to see it with my own eyes. It's really magnificent." Said Joe from Germany, who has lived in Zhejiang province for 14 years. He remarked that the Shenzhen-Zhongshan Bridge brings Zhongshan closer to other cities in the Greater Bay Area. The mega project made him "feel the ever-changing development of China".

After visiting the bridge, Emry, the daughter of American vlogger Brenna, said in Chinese with a big smile on her lovely little face: "I really want to walk on the bridge, and I will come here again!"

The survey group visited the the Museum of Dr Sun Yat-sen to appreciate the culture of this Lingnan-style small town and feel Sun Yat-sen's ambition and feeling of "the whole world is one community".

In the afternoon, the survey group arrived at Zhan's Garden, the largest private garden in the Lingnan area. The picturesque view of the harmony between man and nature was really eye-catching, capturing the delicate garden design, classical blue bricks and tiles architecture, and refreshing natural scenery.

At the end of the trip, Brenna said: "Zhongshan is a diverse, open, inclusive and fascinating city. During the tour, we not only felt its development of modernization, but also experienced its valuable traditional culture."