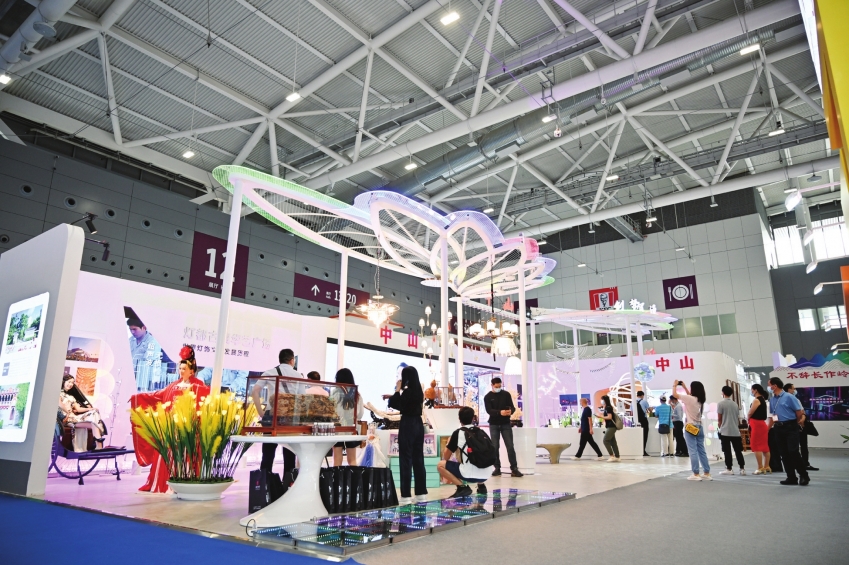 The 17th China (Shenzhen) International Cultural Industries Fair (ICIF), which would last for 5 days, kicked off on September 23. This is the 14th time that Zhongshan Pavilion is showcased in the ICIF.

Zhongshan Pavilion covers an area of 204 square meters, displaying products mainly related to lighting culture, creative design, lighting and movies and the cultural creative industry to thoroughly promote Zhongshan's cultural industries.

This year's Zhongshan Pavilion is designed by Yu Xinmiao, a well-known creative designer and artist. The unique design features lighting fixtures in the shape of an 18-meter-long "Chinese Divine Bird". It is the largest single chandelier shaped as a bird in the world. Yu Xinmiao said that the design not only symbolizes the high soaring future of Zhongshan's cultural industries with the supporting of science and technology, but also implies that Zhongshan's cultural industries are connected with the intelligent manufacturing industry.

In the intelligent lighting area, visitors can experience intelligent lighting fixture centralized control systems and over 100 high-level lighting products. There are also nearly 100 fine works created by artists in Zhongshan on display. In addition, the "Zhongshan Gifts" cultural tourism brand that integrates the high quality product resources and regional characteristics of Zhongshan made its debut in the fair.

Zhongshan Pavilion also highlights the city's historical and cultural relics, eco-tourism, rural tourism, educational tourism, leisure tourism, and other local resources to introduce Zhongshan's all-for-one tourism development model.