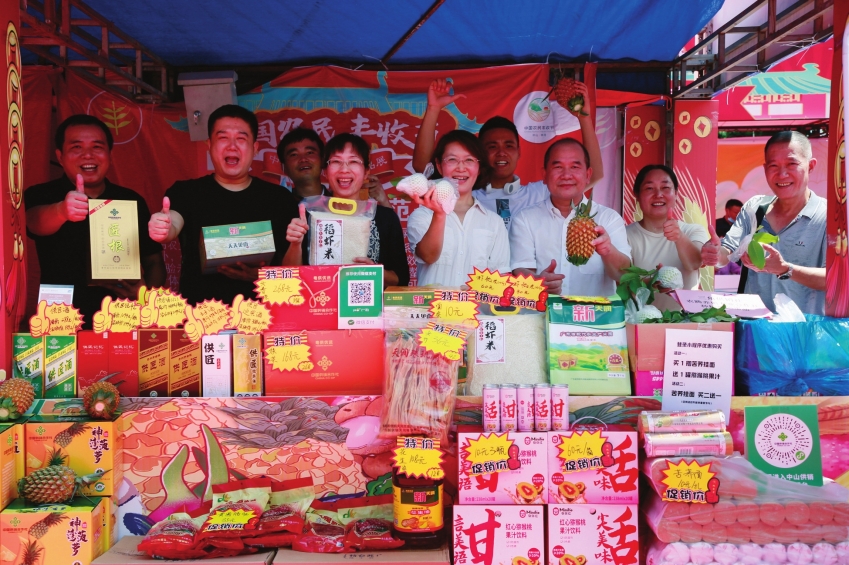 Staff members show Zhongshan's local agricultural products to visitors. [Photo by Yu Zhaoyu]

The 2021 Zhongshan Celebrating the Chinese Farmers' Harvest Festival Activity was launched on September 25 together with the Shenwan Recreation and Sports Tourism Month activity.

Shenwan Pineapples, Chaozhou Honey Pomelos, Liupanshui's Shuicheng Spring Green Tea... Local agricultural products from Liupanshui, Chaozhou and Zhongshan went on sale at the market. "I just want to take a look around and experience the joy of the Chinese Farmers' Harvest Festival," said a citizen surnamed Wang, who bought a lot of local products at the event.

On the same day, the Zhongshan Bureau of Agriculture and Rural Affairs also awarded honorary plaques to organizations that make outstanding contributions to Zhongshan's agricultural and rural development.

Staff members of the Guangdong Consumption Assistance Hall (Sanxiang Store) said that they sold agricultural products from Liupanshui by setting up special counters, pavilions and other sales points. Consumption assistance counters were placed in over 150 enterprises, hospitals, fitness squares and other venues across Zhongshan, and the total sales reached one million yuan already.

Currently, Zhongshan boasts 3 "Famous, Quality, Special and New Brand Agricultural Products", 10 provincial "shopping basket" bases, 4 regional public agricultural product brands, 44 provincial agricultural brands, and over 5,500 large family farms with a total area of over 150,000 mu (about 10,000 hectares) and an annual output value of over 1.79 billion yuan.