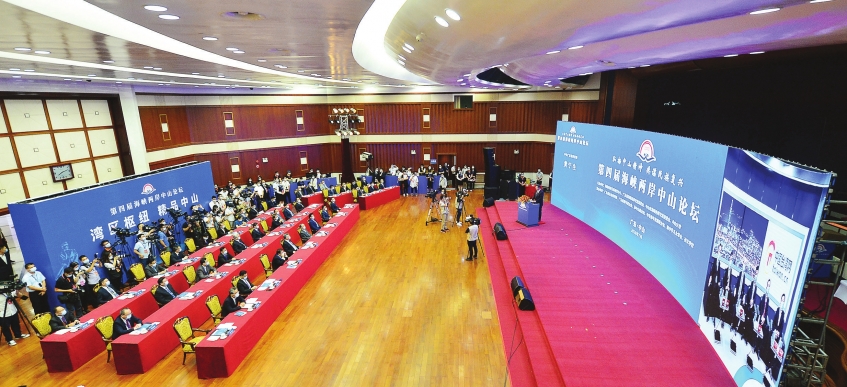 On the evening of July 17, the 4th Zhongshan Forum for Cross Straits opened in Zhongshan, Guangdong Province.

The event is jointly sponsored by the Cross-Strait Relations Research Center, Guangdong Provincial Association for the Promotion of Exchanges Across Taiwan Straits, Zhongshan Association for the Promotion of Exchanges Across Taiwan Straits, and Sun Yat-sen University. At the forum, the "2020 Guangdong Province Guidelines to Thoroughly Implement Relevant Policies and Measures to Benefit Taiwan" was released. On behalf of the Zhongshan People's Government, Zhongshan mayor Wei Weihan signed a framework agreement with the Association of Taiwan Investment Enterprises on the Mainland (ATIEM) on jointly promoting cooperation in cross-Straits exchange bases. Guangdong Electronic Commerce Association signed a strategic partnership agreement with the Guangdong Region of ATIEM.
With the theme "Promoting Sun Yat-sen Spirits, Seeking National Rejuvenation", the forum includes a series of activities such as the "Integrating Taiwan Businessmen into the Greater Bay Area" activity, a seminar on Sun Yat-sen spirits and national rejuvenation, a cross-Straits youth research camp, the "Zhongshan Cup" Slow Pitch Softball Invitational Tournament for Taiwan Enterprises in the Greater Bay Area, Sun Yat-sen Culture Historical Sites Tour, and etc.
This forum, held both online and offline, is the largest cross-Straits exchange activity conducted in the mainland since the outbreak of COVID-19. More than 2,000 people from all walks of life from both sides of the Taiwan Straits as well as from Hong Kong and Macao regions have been invited to the event.