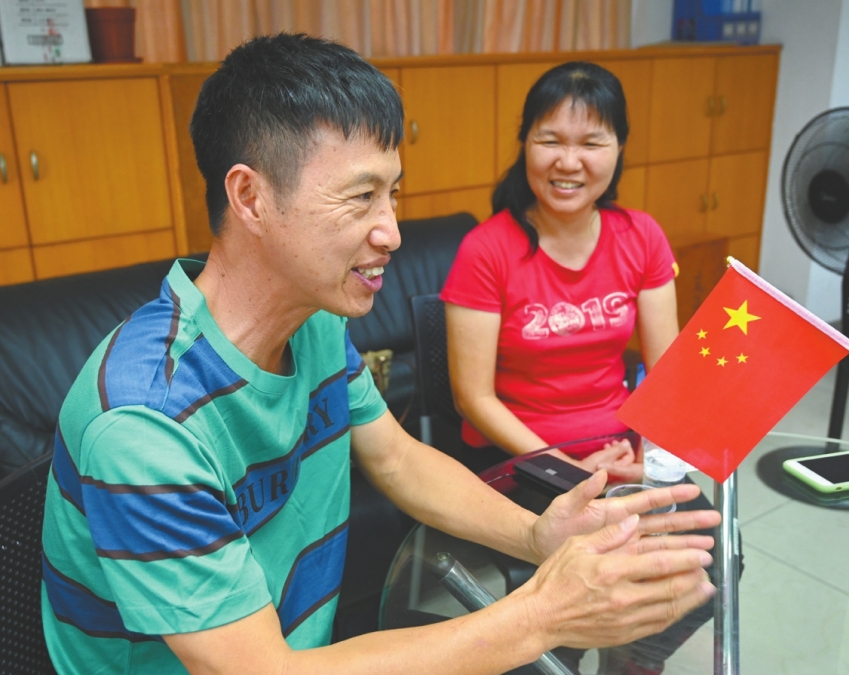 Wu Zhenming and his wife accept the interview. [Photo by Wen Zhicheng]

Mr Wu Zhenming, an overseas Chinese leader and an entrepreneur in Fiji, who attended the National Day parade in Beijing, was interviewed in his hometown Zhongshan with his wife Cao Jiechao on October 6.
At 4 am on October 1, Wu Zhenming, whose ancestral home was in Dachong, Zhongshan, got up early to prepare for the upcoming military parade. A total of 7 overseas Chinese from the Republic of Fiji, including two Zhongshan folks, were invited to attend the parade, Wu Zhenming said.

He was also invited to watch the culture show in celebration of the 70th Anniversary of the Founding of the People's Republic of China.

In September 2019, Wu Zhenming was informed he could attend the National Day parade. "I was in the United States at that time and felt very excited. I immediately bought a ticket to return to China," Wu said.

"As an overseas Chinese from Fiji who attended the parade, I am extremely proud and excited to witness the strength of the motherland," Wu added.

In 1991, one of Wu's relatives who returned from Fiji told him that Fiji not only had a unique natural advantage, but also had many development opportunities. Then Wu Zhenming travelled to Fiji with ambition. It has been 28 years as of now.

After about 10 years of work at a relative's trading company, Wu Zhenming started his own business in 2000 and set up an aluminum alloy door and window factory.

According to Wu, more than 30 large companies in China have established trade cooperation with Fiji. "There are about 1,000 people from Zhongshan who live and start their own businesses in Fiji," Wu added.

Wu Zhenming said that, as long as he had time, he would bring his children back to China, so that they can experience the changes and beauty of the motherland and love it from the bottom of their hearts.