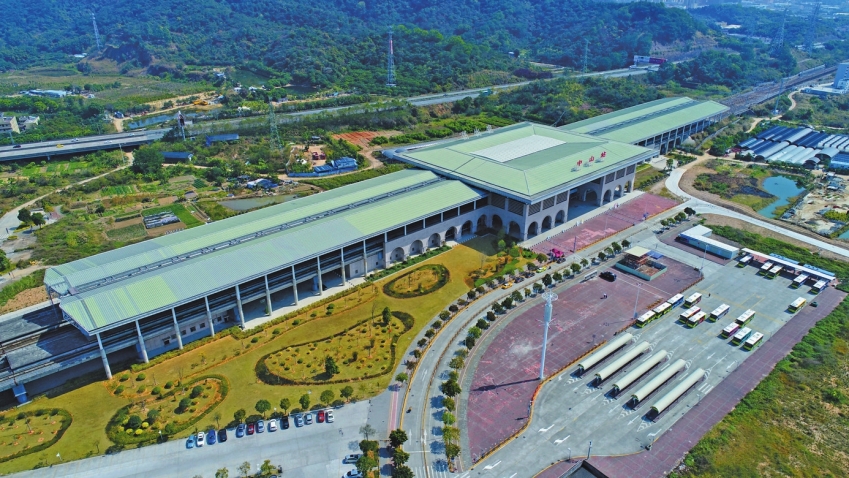 The Zhongshan Station [File photo by Wen Zhicheng]

The theme report "Following the Trend of the Development of the Greater Bay Area, and Actively Promoting the Layout of the Greater Bay Area to Develop Eastward" shown to the 2019 Zhongshan CPPCC Committee Members and Mayor's Consultation Symposium held in Zhongshan on November 27 aroused great concern.

This 30,000-word report is divided into three parts. Among them, seven suggestions are clearly put forward in "The Road to Develop Eastward".

- City Quality Improvement: Building the "Gate of the Century" on the West Bank of the Pearl River in the benchmark of Qianhai;

- Traffic Reinforcement: Constructing a three-dimensional traffic system in parallel with Guangzhou and Zhuhai;

- Industry Enabling: Creating the Pearl River Cross-Strait Integrated Development Demonstration Zone;

- Science and Technology Innovation Upgrade: Building a science and technology innovation circle around the Greater Bay Area;

- Talent Assemblage: Creating an inflow pool of talent around the Greater Bay Area;

- Element Procurement: Accurate investment of strategic resources in the Greater Bay Area;

- Culture Deepening: Creating a humanistic, spiritual paradise around the Greater Bay Area.

In terms of "Traffic Reinforcement", a lot of detailed advice regarding traffic has been raised. For example, the report proposes to build an important rail hub around the west bank of the Pearl River in the Greater Bay Area. Early-stage research on the Zhongshan-Shenzhen section of the Shenzhen-Zhaoqing intercity line is sugguested to be carried out as soon as possible.

At the same time, plans suggested that four urban rails be laid out in the Greater Bay Area to form a radial rail network with Tsuihang Hub. The Zhongshan Railway Station Hub would serve as its core. Among the other recommendations, two or more urban rail lines would be laid out in Tsuihang New District and Qijiang New Town. These lines will smoothly connect the two strategic platforms.

In addition, the report also recommends that the Zhongshan High-speed Expressway system should be improved to accelerate the docking of the high-speed road network in the Greater Bay Area. Specifically, Guangzhou-Foshan, Zhuhai-Macao, and Shenzhen-Hong Kong will connect the Nanshan-Zhongshan Expressway, Guangzhou-Macao Expressway, and Zhongshan-Kaiping Expressway. At that same time, a brand-new cross-river system will be constructed on the basis of the Shenzhen-Zhongshan Bridge and the Lingdingyang Bridge, so as to comprehensively undertake the east coast of the Greater Bay Area and regional traffic.