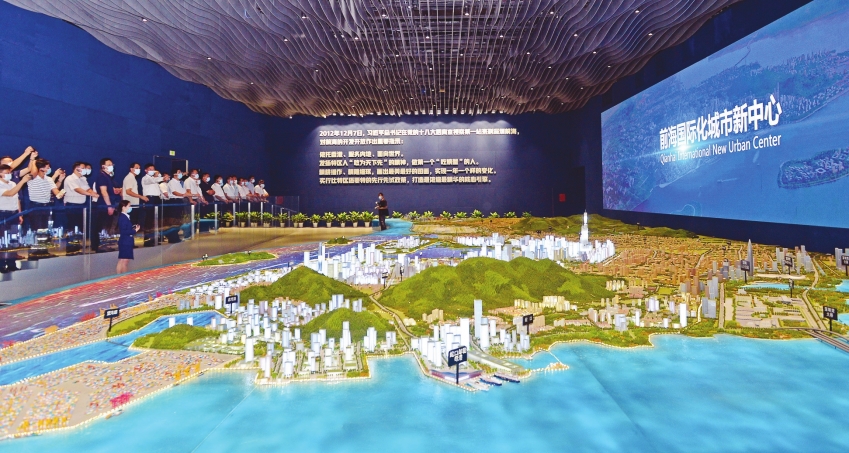 Lai Zehua, secretary of the Zhongshan Municipal Party Committee, and Wei Weihan, mayor of Zhongshan, on July 29 led the Zhongshan Party and government delegation to Shenzhen City, the third stop on the study tour to cities in the Guangdong-Hong Kong-Macao Greater Bay Area.

During this trip, the Zhongshan delegation visited such places as the China (Guangdong) Pilot Free Trade Zone Qianhai & Shekou Area of Shenzhen, Tencent, Shenzhen Administration Service Center, China Resources Mixc World, Shenzhen-Hong Kong Cooperation Zone for Technology and Innovation, Shenzhen City Planning Exhibition Hall, EVOC Group and Fantawild to experience the motiving progress of Shenzhen's urban development and the vitality of its enterprises.

Chen Rugui, mayor of Shenzhen City, met with the Zhongshan delegation. He said that with the accelerated construction of the Shenzhen-Zhongshan Bridge, Shenzhen and Zhongshan have broader prospects for cooperation in various fields. He hoped that the two cities would cooperate to improve infrastructure connectivity, coordination and execution of major plans, construction and layout of industrial platforms, and sharing of ecological and environmental protection responsibilities.

Lai Zehua noted that with the completion and opening of the Shenzhen-Zhongshan Bridge in the near future, urban integration between Shenzhen and Zhongshan will become more promising, and Zhongshan will strive to become the first place to receive the overflow of Shenzhen's innovative elements and industrial resources. At the same time, it is hoped that the construction of the Shenzhen Metro Extension Line 33, Shenzhen-Maoming Railway and other projects are sped up, and the traffic network connecting the two cities is further tightened.