Zhongshan's cross-border e-commerce declared import-export value exceeds 100mn yuan in 2020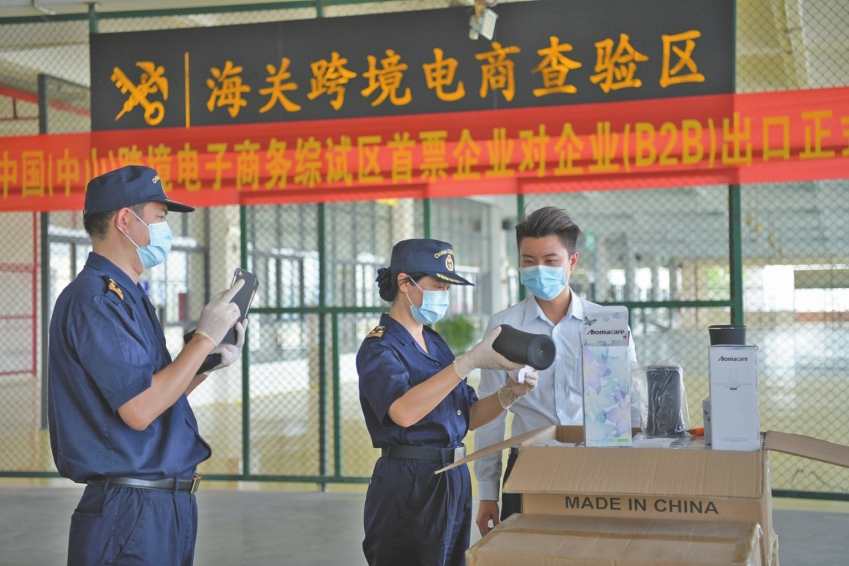 Customs officers inspect first batch of air humidifiers to be exported to the United States through cross-border e-commerce B2B mode on September 1, 2020. [Photo by Miao Xiaojian]

"In recent months, we have tried to export more than US$930,000 worth of products to Africa and Eastern Europe through cross-border e-commerce B2B mode," said Mr Feng, customs business chief of Guangdong Homa Refrigerator Co Ltd, adding that the cross-border e-commerce export mode could break through the time and space constraints under the current epidemic, helping the company obtain more orders and effectively expand emerging markets.

According to statistics from Zhongshan Customs, more than 60 enterprises in Zhongshan applied for cross-border e-commerce business in 2020, with a declared import and export value of US$19.642 million, or 130 million yuan.

On April 27, 2020, the Zhongshan Cross-border E-commerce Comprehensive Pilot Zone was approved. On June 15, 2020, the first 9610 cross-border e-commerce direct purchasing export business was officially cleared through customs, and it was the first to open business in 7 new comprehensive pilot areas in Guangdong Province. On September 1, 2020, the first cross-border e-commerce B2B (9710, 9810) export business in Zhongshan was completed.